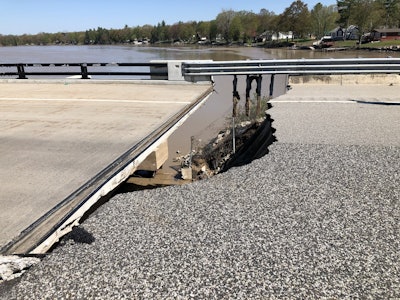 A flurry of activity has been occurring recently in Washington on transportation funding.
A U.S. House committee approved a $494 billion bill to increase spending on road construction and other transportation initiatives.
Also in the House, the Democrat majority unveiled a $1.5 trillion infrastructure package.
And the Trump administration is reportedly working on a $1 trillion infrastructure plan.
The Senate has been less active on the issue of late. It has a transportation bill that has been stuck in committee for about a year.
Meanwhile, the FAST Act (Fixing America's Surface Transportation) is set to expire September 30, and various industry groups have called on Congress and the president to act before it expires. The $305 billion FAST Act passed in 2015 provided $226 billion in federal aid for highways.
Here's a look at how each proposal would affect road construction and where it stands in the legislative process:
House transportation bill
The Transportation & Infrastructure Committee approved the $494 billion INVEST in America Act on June 18. The bill would reauthorize federal funding for transportation for five years at an overall increase of 46 percent. The vote was 35 to 25, with Democratic members in favor and Republicans against.
Road construction effect:
$319 billion for the FHWA's Federal-aid Highway Program, which distributes money to states and local governments to build and repair the nation's highway network. The bill's road construction funding focuses on repairing roads and bridges ahead of new construction. The allocation also includes efforts to reduce greenhouse gas emissions, adding charging stations for electric vehicles and doubling funding for technology for deploying "green" construction materials and practices.
$83 billion in the first year would go as an immediate boost to states, which are facing drastic revenue losses because of the coronavirus pandemic; this money will not require any state matching funds.
Supporters say:
"The INVEST in America Act is our opportunity to replace the outdated systems of the past with smarter, safer, more resilient infrastructure that fits the economy of the future, creates millions of jobs, supports American manufacturing and restores U.S. competitiveness." – Rep. Peter DeFazio (D-OR), committee chairman
Opponents say:
"… we were not given the opportunity to address any of our priorities in this legislation. For example, today's partisan bill lacks critical flexibility for the states, its outsized funding increases for urban areas will leave rural America even further behind, and numerous new green mandates and extreme progressive goals are woven throughout the fabric of new and existing core programs." ­– joint statement by Reps. Sam Graves (R-MO), ranking committee member; and Rodney Davis (R-IL) and Rick Crawford (R-AR), ranking members on related subcommittees
Where it stands:
The bill is expected to reach the House floor for a vote June 30.
Senate transportation bill
The U.S. Senate Committee on Environment and Public Works approved the $287 billion America's Transportation Infrastructure Act on July 30, 2019. The bill reauthorizes federal funding for transportation for five years at an overall increase of 27 percent. The committee vote was unanimous.
Road construction effect:
$259 billion goes to dedicated funding programs for road and bridge work.
The bill also seeks to simplify and speed up project approvals, including a goal of a two-year maximum process for environmental review.
Supporters say:
"The bill authorizes $287 billion from the Highway Trust Fund over the next five years. This is the most substantial highway infrastructure legislation in history. Of that money, $259 billion – or 90 percent – will go directly to our roads and bridges through highway formula funding – a program that has successfully worked in our states across the country." – Sen. John Barrasso (R-WY), committee chairman
"The fact that a bill as significant as this one also happens to be bipartisan really should not come as a great surprise to anyone, because – in a greater sense – our nation's transportation infrastructure helps bring all Americans together." – Sen. Tom Carper (D-Del.), ranking committee member
Opponents say:
The bill had bipartisan support, so little public opposition has been expressed. Senate Republicans have expressed concern for how to fund the legislation, but members of both parties agree on the need for increased infrastructure funding. The crux, as always, is how to pay for it.
Where it stands:
The bill has stalled at the committee level since its approval last July.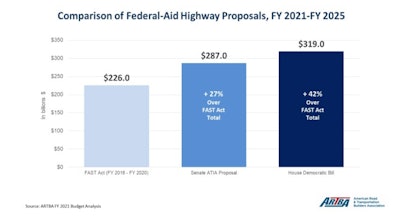 House infrastructure bill
Democrats introduced the $1.5 trillion Moving Forward Act on June 18 that includes the $494 billion transportation bill mentioned above. The bill also includes spending on infrastructure for drinking water ($25 billion); broadband ($100 billion); alternative energy projects ($70 billion); low-income schools ($100 billion); and hospital improvements ($30 billion), according to The Hill.
Road construction effect:
See above section on the House transportation bill.
Supporters say:
"… when we talk about building roads and bridges and railroads and ports and harbors, that is so important. It's job-creating in its essence but also commerce-promoting. So it grows the economy of our country." – Rep. Nancy Pelosi (D-Calif.), House speaker
Opponents say:
The legislation will face a roadblock in the Senate, where Republicans are concerned about how to pay for increased infrastructure funding. "Green" aspects of the bill are also likely to raise objections.
Where it stands:
Pelosi said a floor vote would occur before July 4.
Trump infrastructure proposal
The Trump administration is developing a $1 trillion infrastructure proposal, Bloomberg reported June 16. In March, President Donald Trump tweeted about the possibility of a $2 billion infrastructure package.
Road construction effect:
No official announcement has been made on a new plan from the White House. Bloomberg reports that the U.S. Department of Transportation is developing the proposal.
Supporters say:
Trump has called for a large infrastructure plan, introducing a $1.5 trillion initiative in 2018. "We will build gleaming new roads, bridges, highways, railways and waterways all across our land. And we will do it with American heart and American hands and American grit." – Trump, 2018 statement in releasing his administration's American Infrastructure Initiative
Opponents say:
The Hill reports that Senate Republicans do not want to tie infrastructure spending to coronavirus-targeted legislation and are also questioning the costs and how it would be paid for.
Where it stands:
No official word on when or if this proposal will be presented.