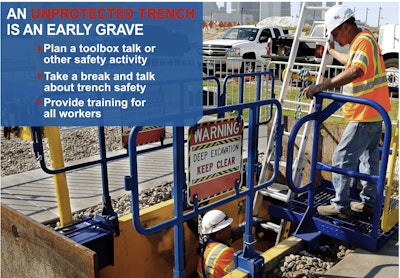 The National Utility Contractors Association reports that it reached 22,525 people with its third Trench Safety Stand Down, more than double the 10,000 people it reached last year, realizing a goal the association had set for this year's event.
In promoting the June 18-23 stand down, NUCA asked members to reach out to non-members, including plumbers, landscapers and smaller contractors, to help spread the word. More than 400 companies working on 1,900 jobsites participated in this year's stand down, says the association.
NUCA's stand down urged contractors to take the time to make sure they got in front of their crews with a trench safety message.
The Trench Safety Stand Down provided downloadable materials – available in both English and Spanish — for contractors to conduct their own safety talk. These include instructions in how to prepare for the stand down, a sign-in sheet, pass-out materials and a completion form.
The group asked contractors to break for a toolbox talk or another safety activity to examine the specific hazards in trenching. In return, contractors reported back to NUCA, detailing when they did the talk and how many of their employees participated. Participating firms received a certificate of participation from NUCA, and their names are published on a list of organizations that held a stand down.
Warren Graves with utility services contractor Team Fishel, Roanoke, Texas, told Equipment World in May that participating in the stand down was important to his firm: "You take just a few minutes to communicate the importance of doing the right thing the right way," he explained. "You and your colleagues are part of a family, and we all need to take care of each other."
As part of its Death by Trench special report in June, Equipment World published a list of trench safety resources, including handouts, videos and checklists that can be used for toolbox safety talks.
The NUCA Stand Down was co-sponsored this year by OSHA and the North American Excavation Shoring Association.