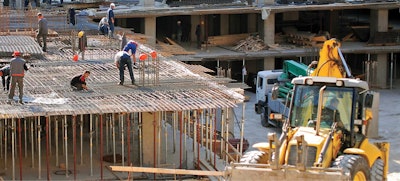 An Associated General Contractors of America weekly survey on COVID-19 coronavirus impacts showed an 11 percentage point week-t0-week increase in contractor respondents who said an owner had ordered them to halt or cancel construction either underway or scheduled to start within the next 30 days.
In total, 39 percent of the 1,640 contractor respondents in the survey conducted Mar. 23-26th said this had happened, compared to 28 percent the week before.
"The abrupt plunge in economic activity is taking a swift and severe toll on construction," said Ken Simonson, the association's chief economist, noting that only 18 percent of respondents have been ordered to halt work by elected officials. "The sudden drop in demand stands in sharp contrast to the strong employment levels this industry was experiencing just a few weeks ago."
While 82 percent of respondents said they had not been ordered by a governmental agency to halt construction, others had experienced a variety of orders coming from a governor, city/county executive, state DOT or another agency.
Project delays have been prompted primarily by a shortage of materials, equipment or parts (23 percent of respondents); a craftworker shortage (18 percent); shortage of government workers to issue permits, conduct inspections, etc. (16 percent) and "any information to the effect that an infected individual has entered a job site and at least potentially infected it" (13 percent).
In addition, 35 percent of respondents say that suppliers had given notice that their deliveries would be late or cancelled.
Only 8 percent of respondents say they had gotten an additional project as the result of the coronavirus outbreak.
In looking at the responses by sector, building contractors seemed especially vulnerable to stopped or cancelled construction, with 45 percent of respondents in that sector saying this had happened, compared with 36 percent of water/sewer contractors and 19 percent of highway firms. In addition, 26 percent of building contractors say they have seen a shortage of materials, equipment or parts, compared with water/sewer contractors (18 percent) and highway contractors (16 percent).