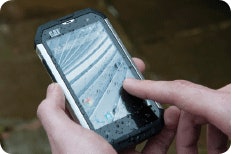 Cat B15Q smartphone
Caterpillar's B15Q smartphone is designed to resist damage from drops onto concrete, water submersion and extreme temperatures. The phone supports (4.4) KitKat, the latest version of Android. Features include Bluetooth version 4, HD camera with LED Flash, large speaker, noise canceling dual microphone, 4-inch touchscreen display with wet finger tracking, scratch resistant Corning Gorilla Glass and more.
.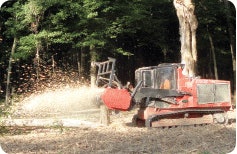 Fecon FTX128L Mulching Tractor
Fecon's FTX128L Mulching Tractor is designed for use in roadside maintenance applications. Powered by a 128-horsepower Cummins QESB4.5 diesel engine, the machine features 20-inch tracks that allow uphill cutting and 3.8 psi ground pressure that enables work in soft conditions.
.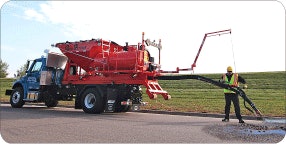 DuraHook pothole patcher
Cimline Pavement Maintenance Group expands its DuraPatcher product line with DuraHook, a pothole patching system that uses a truck's chassis, offers quick change-out and features DuraPatcher's spray-injection patching. The unit carries 6 yards of aggregate and 250 gallons of emulsion and includes an onboard compressor. The system, designed to provide a long-term pothole patch, uses a four-step process to quickly repair potholes and allow traffic to begin traveling immediately.
Bobcat Pro Clamp system
Bobcat Company's Pro Clamp system attaches to the company's M-Series excavator bucket to grab large, irregular-shaped material and is available with a pin-on adjustable standard tool or reversible grading tool. The standard tool allows the system to provide traditional or wider, more aggressive grabbing action, while the 24-inch grading tool offers forward and reverse grading.
betterroads.com/bobcat-pro-clamp-system
.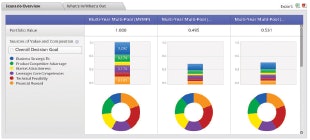 Decision Lens platform upgrade
Decision Lens, a program designed to help agencies objectively decide how to allocate funding, has launched an update to its platform. Features include side-by-side scenario comparisons, resource prioritization with advanced analytical outputs, multi-time period resource optimization with what-if analysis, map view, bubble charts and more.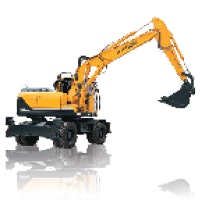 Hyundai 9A series wheeled excavators
Hyundai Construction Equipment Americas' latest addition to the 9A series is three wheeled excavators: the R140W-9A, R180W-9A and R210W-9A. The mid-size excavators offer a number of improvements over their predecessors, including enhanced durability, hydraulics, cab features, and maintenance. Each machine is powered by a Cummins QSB6.7 Tier 4 Interim engine with electronically controlled fuel injection, diagnostic capabilities, variable speed fan clutch and a two-stage auto decel system.
betterroads.com/hyundai-9a-wheeled-excavators
Goodyear Tire Trac management tool
Goodyear Tire and Rubber Company offers the Tire Trac online tire management tool that monitors metrics such as tire installations, tire performance, reasons for removing tires from service and more. Offered through the Goodyear-FleetHQ suite of business solutions, the tool allows users to view information on specific tires or all tires in the fleet, compare cost-per-mile at varying locations and identify systemic trends within the fleet. Trained technicians perform on-site tire inspections that provide the information in each report.
betterroads.com/goodyear-tire-trac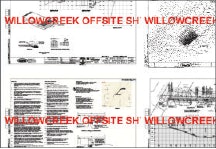 Dexter + Chaney's Project Plan Room app
The latest mobile app from Dexter + Chaney, the Project Plan Room app, allows users to send construction documents, data and project information from the office to workers' mobile devices on the jobsite. Users can view documents online or offline, and an Internet connection is only needed when synchronizing with Spectrum Construction Software for updates or new document versions. The app is available for Android, Apple and Windows Surface devices.
betterroads.com/project-plan-room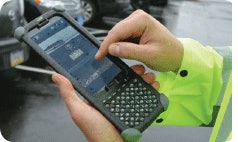 Two Technologies N4 rugged mobile device
Two Technologies has released the N4, an Android device housed in an ultra-rugged polycarbonate shell. The water- and heat-resistant device features a 5.5-inch diagonal high-resolution 720 x1280 AMOLED display, a 70-key customizable backlit keypad and an 8-megapixel camera. The device runs on Android version 4.3 and has 16GB of internal memory, though a Micro SD card would allow for up to 64GB of additional memory.
betterroads.com/two-technologies-n4
.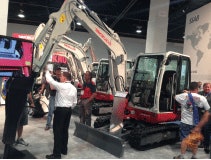 Takeuchi TB230 and TB240 compact excavators
Takeuchi expands its Tier 4 lineup with the availability of its TB230 and TB240 hydraulic compact excavators. The 6,607-pound TB230 is powered by a 24-horsepower Tier 4 Final computer-controlled Yanmar engine and has a bucket breakout force of 6,471 pounds. The TB230 includes a multi-function monitor, function switches, electronic throttle control and precision pilot controls. The 8,289-pound TB240 delivers 9,959 pounds of digging force and is powered by a 35-horsepower Tier 4 computer-controlled Yanmar engine with two new working modes. The TB240's redesigned body eliminates the need for an operator's station
betterroads.com/takeuchi-tb230-tb240
.

Fugro Vision 2.2 software
Fugro Roadware's latest software update, Vision 2.2, offers faster process times for pavement management data, compared to previous versions. Features include a built-in map that shows collected data for the entire road network; WiseCrax2D that identifies and displays potholes, curbs and more; and an "Export to VisiData" option that allows users to implement in phases large number of VisiData installations.
betterroads.com/fugro-vision-2-2