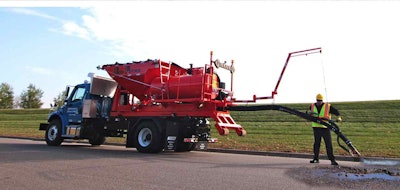 Cimline Pavement Maintenance Group has added DuraHook, a long-term pothole patching solution, to its line of DuraPatcher products.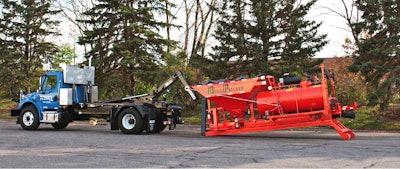 The DuraHook uses a truck's chassis and offers quick change-out. It features DuraPatcher's spray-injection patching.
The unit is designed to permanently patch a pothole by using compressed air to rid the pothole of loose debris, spraying emulsion into the hole as a binder, forcefully spraying emulsion coated aggregate to compact the product and fill the hole and spraying dry aggregate over the patch to allow traffic to begin traveling immediately.
A 74-horsepower John Deere diesel engine powers the DuraHook. The unit carries 6 yards of aggregate and 250 gallons of emulsion and includes an onboard compressor.