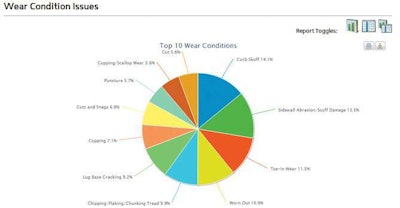 The Tire Trac online tire management tool from Goodyear Tire and Rubber Company aims to help fleet managers monitor the fleet's tires.
The tool, offered through the Goodyear-FleetHQ suite of business solutions, is designed to keep track of metrics such as tire installations, tire performance, reasons for removing tires from service and more.
The tool allows users to look at a specific tire or all tires in the fleet. It also enables users to compare cost-per-mile as well as identify systemic trends within the fleet.
Trained tire technicians gather data by performing on-site tire inspections, which involve measuring tire inflation levels and tread depth. The information gathered is used to create reports that show the performance of each fleet's tire.