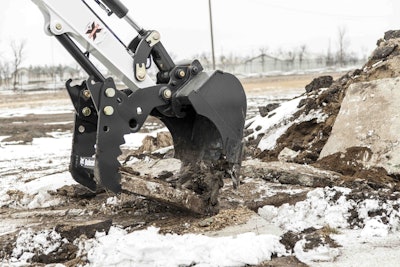 Bobcat Company has introduced its Pro Clamp System, which attaches to the company's M-Series excavator bucket and grabs large, irregular-shaped material.
The system — designed for use in construction, demolition, site development and more — is equipped with a pin-on adjustable standard tool or reversible grading tool.
The adjustable design on the standard tool allows the attachment to be pinned in a position that provides traditional grabbing performance or in a higher position that offers a wider jaw and more aggressive grabbing action for large material.
The 24-inch Pro Clamp grading tool is reversible to allow for forward and reverse grading.