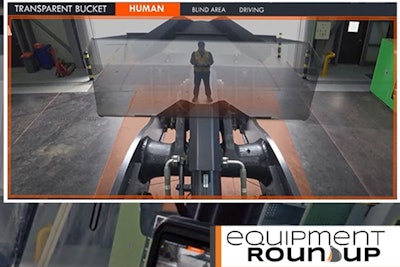 This is the Equipment Roundup
Every week we collect the top construction equipment headlines you need to know about in one spot.
Doosan Unveils First Wheel Loader Bucket with No Blind Spots
Doosan has introduced an innovative new loader bucket that sounds too good to be true.
This new bucket is transparent, allowing the operator to keep an eye on everything in front of the machine and eliminating the blind spots typically created by the bucket.
But how? To read about the technology behind this feature, click here.
How to Calculate the Owning and Operating Costs of a Compact Track Loader
Looking for a primer on how to calculate O&O costs of a compact track loader? We've got you covered.
Though this discussion isn't exactly plug-and-play due to how machines and other variables differe from owner to owner, the process we outline here will give you a solid estimate and can be used to anticipate hourly costs over the life of the machine.
To read more, click here.
Skid Steers Settle In As Go-To Compact Equipment
The dominance of the skid steer is over. But it appears that its years-long sales regression—brought on by the rise in popularity of the compact track loader—is over as well.
So where does that leave the market? In pretty good shape. That's in large part due to the skid steer's versatility.
To read more, click here.
Volvo Enters 5-Ton Compact Excavator Market With ECR50, Updates ECR58
Volvo introduced two new compact excavators to its North American lineup: the 5-ton zero-tail-swing ECR50 and the 6-ton short-swing ECR58.
Volvo says the new models are both aimed at rental and those owner/operators working in utilities, landscaping, roadbuilding and more.
To read more, click here.
Prep for the New, Mow Down the Old With These 12 Attachments for Spring
As spring emerges so does the need for landscaping work.
To help you gear up for the new season, these 12 attachments are designed to boost your construction equipment's performance in preparing the ground for new growth or mowing down the untamed brush.
To read more, click here.
Genie's Redesigned GTH-1056 Telehandler Gets Capacity Boost
Genie's new GTH-1056 telehandler has greater lift capacity at max height.
The 10,000-pound capacity machine benefits from a stronger boom and chassis design and now has a capacity of 5,000 pounds at its 56-foot 7-inch max height.
To read more, click here.