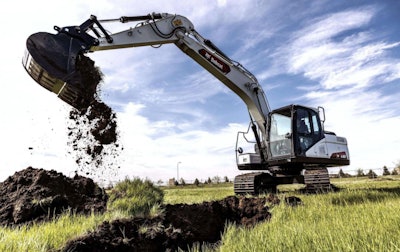 Bobcat
Further proof that compact equipment sales have escaped the significant downturn felt by heavy equipment sales in the past year is shown in Doosan Bobcat's Q4 and 2020 results.
Boosted by a global sales increase of 8% in Q4 — including a 9% increase in North America — Doosan Bobcat's total 2020 sales saw a 6.2% decline. Though an annual sales decline is always bad news for a company, Bobcat's 2020 dip was much lower than the double-digit revenue decreases reported for 2020 by Cat, Deere and Volvo, to name a few.
---
RELATED: Hyundai parent expected to buy Doosan Infracore; agreement by year's end

---
In addition, the company says it expects sales this year to continue to rebound – so much so it's expecting a nearly 19% sales growth in North America, growing from $2,664 million in 2020 to $3,174 million by the end of 2021.
In making this forecast, Doosan Bobcat anticipates the U.S. housing market to remain strong along and federal infrastructure investment to increase. It also expects increased sales of its new R-Series compact track loaders and skid steers, along with its compact excavators. (Ninety-four of the company's 2020 revenues came from compact equipment.)
Q4 bounce
Doosan Bobcat's Q4 recovery came after a Q2 dip of nearly 23% compared with the same period in 2019. A great deal of the rebound was felt between Q2 and Q3, when sales had recovered to being just 3.3% behind the same period in the previous year.
With 74% of its sales in North America, Doosan Bobcat says Q4 sales in the region increased by 9 percent, primarily because of recovery of the company's loader (which includes both compact track loaders and skid steers) and compact excavator product lines and the growth of the grounds maintenance equipment market in general.
The Doosan Bobcat report follows the announcement in December that Doosan Group would sell a 36% controlling stake of Doosan Infracore to Hyundai Heavy Industries Holdings. The Doosan Group company is comprised of both Doosan's own brand of construction equipment and those of the Bobcat brand, which it acquired in 2007. Doosan Bobcat, however, is not part of this deal and will be retained by Doosan Group.
The Hyundai/Doosan Infracore deal is expected to close in the third quarter, according to recent South Korea media reports.