There was a time when skid steers defined the compact equipment market.
For all intents and purposes, they were the only machines in that category. Then came compact excavators, compact track loaders, compact utility loaders, compact wheel loaders, compact everything, it seemed.
At first, these compact machines were pretenders to the throne as kings of compact, but they got bigger, stronger and more capable, and skid steers consistently lost ground, especially to CTLs.
As of last year, that regression seems to be over. Skid steer sales have not fully recovered (and may never do so), but the losses have stopped, and sales have plateaued. This is partly because some compact machines lack a skid steer's versatility. "Mini excavators aren't direct competitors because, while they can be prime movers, mostly they're used for digging and trenching," says Tyler Zima, senior product specialist, Bobcat.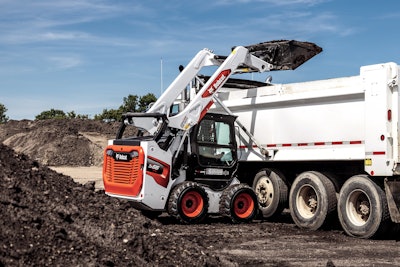 And what about the skid steers' strongest competitor, the compact track loader?
"Customers have developed a greater understanding of where tracks have advantages and where tires have advantages," says George MacIntyre, product manager, Case Construction Equipment. "You are seeing fleet managers and business owners segment their fleets accordingly."
He confirms the accepted industry wisdom that tires are better on hard and improved surfaces, while tracks are better on turf and other soft surfaces. "There are exceptions and considerations for every application," says MacIntyre, "but you're seeing managers become more sophisticated and intelligent in how they integrate both machine styles into their operations."
Loaders only?
In their early years, skid steers were mostly bucket and fork machines – pretty much loaders only. Then attachments were developed, and skid steers were engineered to make better use of those attachments until skid steers became prime movers.
From mounting systems to high-flow hydraulics, skid steers and attachments developed in synchrony. But other compact machines also cultivated their attachment appeal.
So have skid steers been forced back to their humble bucket-and-fork role?
Not at all, says Buck Storlie, product line manager at ASV. "The skid steer is still a prime mover. It's not uncommon to see a skid steer with two or three attachments at a jobsite."
In fact, greater attachment performance has opened new markets for skid steers. Mulching and forestry are two examples provided by Ryan Anderson, product marketing manager, New Holland Construction. Highly specialized attachments have been added. Anderson cites tree spades and paver layers. The latter can pick up and place a section of pavers, typically 3 feet by 3 feet, using either pressure (like a jersey barrier lift) or suction.
Some OEMs develop and produce their own attachments. Some outsource. Others use a mix. New Holland partners with Stanley for Paladin and other Stanley tools under private label. Kubota partners with Land Pride for more than 40 skid steer attachments tailored to over 15 product categories.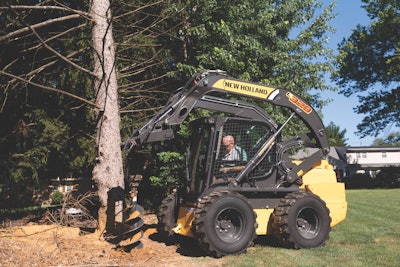 "The largest machines, those with 100 horsepower, are also crowding into markets once served only by small wheel loaders and small dozers," says Zima. Skid steers are preferred for snow removal because their higher ground pressure yields better traction and their high travel speeds make short work of clearing parking lots and driveways.
Three key characteristics of skid steers keep them active regardless of what attachments they're using. Their agile handling makes them well suited to tight spaces. Their high travel speeds enhance lift-and-carry and loading operations. Their light weight allows the skid steer plus several attachments to be trailered together by a typical pickup truck (subject to weight restrictions, of course).
Is a skid steer right for me?
Generally if an application can be done with a skid steer, that will be the most cost-effective approach.
"Customers buy on value," says Adam Devins, product manager, skid steers and compact track loaders, Wacker Neuson. "Skid steers have a lower initial investment and lower total cost of ownership. But they also have key advantages beyond cost."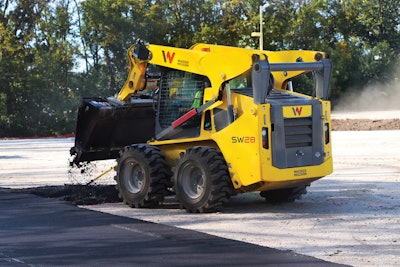 As noted, they're faster, more agile and have more pushing traction, especially in snow. The travel-speed gap is being narrowed as faster CTLs emerge. And the snow advantage is also disappearing with the availability of all-season and snow-specific tracks. But skid steers' agility remains unmatched. On top of that, says Devins, they have better fuel efficiency than compact track loaders.
Greg Zupancic, product manager, compact equipment, John Deere, notes the appeal of skid steers' lower cost to start-up businesses and other entry-level buyers. "The benefit of lower cost is compounded for those with less than stellar credit, as they will pay higher interest rates but on a lower purchase price."
The wide range of attachments also helps. First-time buyers can acquire attachments as needed to enter new markets or to perform new services for a market they're already serving. "A skid steer might be the first acquisition for a customer in a market with rising labor costs or labor shortages," says Zupancic. "The lower cost of a skid steer makes that transition more doable."
Zupancic's advice for existing customers pondering the best way to expand their fleets?
"If your applications favor the benefits of skid steers, such as their speed and maneuverability, that helps. Also evaluate the ratio of work on hard versus soft ground conditions to decide whether wheels or tracks are the best choice."
What about tracks over tires?
"Think forward," says Zupancic. "How often do you want to do jobs like this? If it's one job where the additional cost makes sense, go for it. If you'll be doing frequent jobs that favor tracks, consider adding a CTL to your fleet or trading in your skid steer for a CTL."
Storlie lists a number of considerations including, "What am I lifting and how high am I lifting it?"
The factors influencing the decision of whether a skid steer is the right choice can be overwhelming, so Storlie offers this advice:
"Basically it comes down to investment, terrain and application."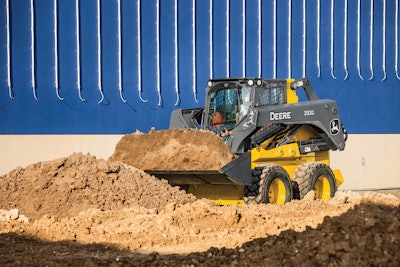 The main appeal of skid steers is they support what people get in business to do, says Anderson. "In general, a skid-steer is a money-making machine. Low costs and high productivity make this possible."
One key to lower overall owner and operator costs is residual value. Skid steers have high utilization rates and tend to be hammered by the time they enter the secondary market, so residual values are low. "Keep them well-maintained and keep excellent maintenance records to offset some of that loss of value," says Chris Trampush, product manager for skid steers and compact track loaders, JCB. "But also remember that the front-end investment was lower, overall costs are lower, and production rates are generally high. Even with low residuals, skid steers offer real value."
Progress marches on
OEMs aren't lamenting the realignment in the market from skid steers to other machines; those other machines tend to have higher profit margins for both manufacturers and dealers.
Zupancic notes that Deere has "right-sized" its skid steer lineup from eight models to six by dropping the 312GR and 314G. "They were plain-Jane models with no chance to option up," he says. "The market they served is well served by our 316GR and 318G."
Yet manufacturers remain committed to skid steers, despite the drop in sales. Horsepower is up, as Zima noted, and it's up a lot.
"Compliance with Tier 4 Final standards becomes more challenging at 75 horsepower," Zima says. "Why would a manufacturer meet those stricter compliance measures with an 80-horsepower machine when the same measures would be required at higher horsepower levels?" Hence the proliferation of skid steers with 90, 100 or even 120 horsepower.
Deere currently offers its Boom Performance Package on only its two largest models, the 330G and 332G, but it will be coming down to smaller models, says Zupancic. Features include boom kick-out, return-to-dig and return-to-carry. "We'll look at bringing features to skid steers from compact track loaders where they make sense and can contribute value to the skid steer platform."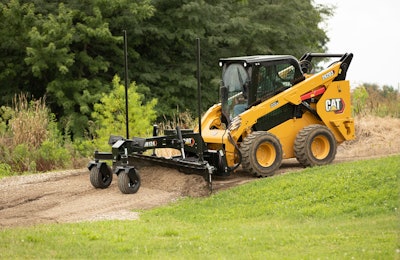 Kevin Coleman, senior product specialist, Caterpillar, notes that Cat started offering advanced features on its skid steers in 2013. "We were the first to offer a rearview camera; now it's assimilated into the market."
Other key features in Cat models for some time include a one-piece, sealed and pressurized cab and a full color display.
More recent additions to Cat skid steers include dual self-leveling, which automatically levels the bucket in both lift and lower motions. This is not standard equipment but is part of a package for most machine configurations. Also in that package are return-to-dig and work tool positioning. The latter is commonly associated with trenchers and similar attachments, "but the work tool positioning feature is helpful even with buckets and forks," says Coleman.
Smart attachments take advantage of the Smart technology inherent in current Cat skid steers. There are three: Smart backhoe, Smart grader blade with assist and Smart dozer blade. The dozer blade is mostly fitted to other machines with greater pushing power, but the backhoe and grader blade with assist are well suited for use with skid steers.
The skid steer recognizes the Smart attachment, and the monitor and controls are modified to match its requirements. The backhoe provides the dig depth of a 3-ton compact excavator and can use the same compact excavator attachments such as thumbs, plate compactors and augers. The grader blade with assist can be thought of as a moldboard and gives the skid steer grading performance.
JCB will roll out changes to its skid steers in the second quarter of 2021, says Trampush. LiveLink Lite is now standard and includes a handful of features, including machine locating. The coming LiveLink will be fully featured with a more robust menu of telematics capabilities. In the same time frame will be new radios with Bluetooth and hands-free operation and an optional LED lighting kit.
KubotaNow telematics is now available on all Kubota construction equipment products, says Blane Burroughs, product specialist. Self-leveling is an available option. Multifunction Pilot Control Grips give fingertip control of the machine and its attachments. Kubota's current SSV series features a sliding overhead front door, for quick, easier cab access, and standard two-speed travel.
So yes, the skid steer market has undergone significant adjustment in the past decade or so, and yes, sales have come down considerably. But as the market has leveled off, their future looks bright.
"They will always be a staple in the diet," says Anderson. "Skid steers will always have a place."