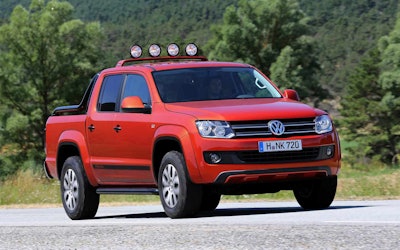 Chicken Tax and past speculation aside, we now have our most promising nod yet that a Volkswagen pickup might actually make its way to the U.S.
But here's the thing: the truck that finally goes on sale here, might not be the VW Amarok model we know today.
VW's North American CEO Michael Horn recently told Autoblog that the automaker is reevaluating its truck strategy and will be paying close attention to the success of GM's 2015 Chevrolet Colorado and GMC Canyon when the pickups launch this fall.
The new GM pickups, like the Amarok, are midsize and will have a diesel option come the 2016 model year.
"It's a question mark, but it starts to be discussed," Horn told Autoblog. "Let's put it this way: we start to discuss it again and whether it's attractive for us."
However, Horn added that "The Amarok is too small for the U.S."
So, depending on the success GM sees with its midsize trucks, Volkswagen will either introduce a slightly larger Amarok—or maybe the company is actually considering a completely new full-size model.
In the past, VW execs have said that should the U.S. decide to drop the Chicken Tax the automaker would have a lot more incentive to enter the pickup market here. The "Chicken Tax," is a 50-year-old, 25-percent tariff on light trucks imported into the U.S. It was imposed in 1963 as the Lyndon Johnson Administration's response to a European tariff on U.S. chicken. There is potential the tariff could be lifted as part of the Trans-Pacific Partnership trade agreement.