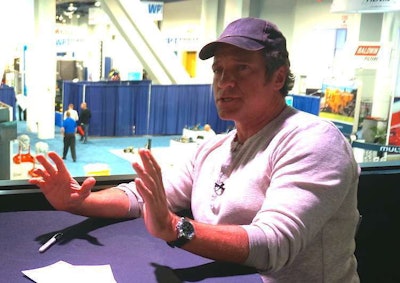 All of the new machines are obviously the star of a show like ConExpo. But one of the highlights for the Equipment World team last week at the show was getting to sit down with TV host and newly-minted author Mike Rowe for a conversation on the importance of skilled trades and vocational education.
Just in case you're unaware, Rowe is likely the foremost advocate for construction and the trades we have today. Rowe believes "We no longer equate dirt with success. But we should." He has noted that the American education system undervalues vocational education and his mikeroweWORKS foundation is even giving $15,000 vocational school scholarships to students who will take his SWEAT pledge.
In our interview, we discussed how Rowe got started, how his grandfather was the inspiration for Dirty Jobs and how opera is a lot like working in construction. We also discuss the country's "disconnect" from hard work and Rowe confesses his own. We also discuss the recent controversy surrounding Rowe and his TV spot for Walmart as well as his message for the youth of America.
Watch the full exclusive interview.
[youtube X3IfbmKUHLo nolink]