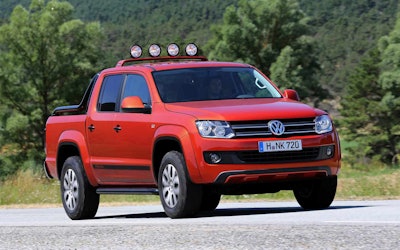 In the past year, thanks to the surge in popularity of diesel and the fact that pickup owners are looking for more fuel-efficient options, rumors and speculation have swirled around Volkswagen's midsize Amarok.
VW has certainly helped that speculation along. The company has said it wants to become the leading automaker in the world by 2018, something that would be helped greatly by a U.S. pickup launch. Plus, VW's U.S. CEO Jonathan Browning has said discussions around launching the truck here have taken place and that the Amarok "certainly represents an opportunity" in the U.S.
Now, though he says the company does not have any concrete plans to introduce the Amarok to the U.S. just yet, Browning tells Truck Trend that should the U.S. decide to drop its "Chicken Tax" on foreign pickups, "that would be a good time to reevaluate."
The "Chicken Tax," is a 50-year-old, 25 percent tariff on light trucks imported into the U.S. It was imposed in 1963 and started as the Lyndon Johnson Administration's response to a European tariff on U.S. chicken. There is potential the tariff could be lifted as part of the Trans-Pacific Partnership trade agreement.
The U.S. was accused of selling large chickens at below-production prices to European nations and thus flooding the market with cheap chicken—up until that point a delicacy in Europe. So those countries opted to tariff the chickens.
In addition to light trucks, the original "Chicken Tax" included potato starch, brandy and dextrin, but those items have since been exempted from the tax.
In addition to keeping an eye on policy changes, we have to imagine that VW will be monitoring the success of Chevrolet's new Colorado midsize pickup. The 2015 redesign was recently unveiled and will go on sale next year. Chevy also announced that in 2015 the Colorado will receive a diesel option as well.