While a lot of people are talking about Ford's big gamble this week, General Motors has placed a pretty big bet of its own with the unveiling of the new 2015 GMC Canyon.
Specifically, that there are serious truck customers out there who want to buy a small truck—an idea Ford abandoned when it discontinued the Ranger in 2011.
"Not everyone needs full-size capability, but they still deserve strength and true-truck attributes that come in larger models," said Tony DiSalle, vice president of GMC Marketing, in a prepared statement.
And this new Canyon looks the part. It's front end and grille design greatly resemble its big brother the Sierra, setting it apart from its more sporty-looking sibling the 2015 Chevrolet Colorado. And that's on purpose. GM wanted the truck to look bigger than it is —a way to hammer home the point that appearances can be deceiving and in a good way.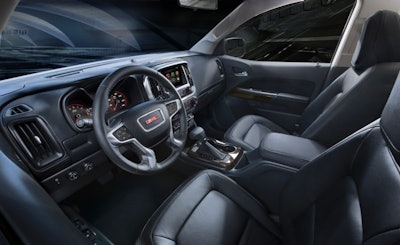 GMC says the Canyon will have the best horsepower in its segment at an estimated 193 horsepower from the standard 2.5-liter I-4 and an estimated 302 hp from the optional 3.6-liter V-6. GMC says the Canyon will have the segment's best payload as well at at least 1,450 pounds and the segment's best maximum trailering rating of at least 6,700 pounds.
And with all that power, the Canyon is 900 pounds lighter than the Sierra. Another bonus from that smaller size? A turn radius of only 41 feet.
A six-speed automatic transmission comes standard on the Canyon and a six-speed manual is available on extended cab models with the I-4 engine.
And, just like the Colorado, the Canyon will gain a diesel option in the 2016 model year in the 2.8-liter Duramax we've reported on in detail in the past.
More work-based features include a bed rail and tailgate protectors, standard, along with a standard two-tier platform that allows you to split the bed into upper and lower sections. There are also 13 reconfigurable and four stationary tie-down locations throughout the bed that can be used with the optional removable cargo tie-down rings.
Production of the Canyon will start in the fall of this year and when the truck goes on sale it will be available in base, SLE and SLT models, in 2WD and 4WD models, and with an All-Terrain package offered on SLE models.
In addition to resembling the Sierra, the Canyon incorporates some of its features, including a rear bumper with a tailgate step built into the side, the smooth-and-slow-opening of the EZ-Lift tailgate. The truck will also feature OnStar 4G LTE internet connectivity and features a built-in Wi-Fi hotspot.
Don't miss the gallery below.