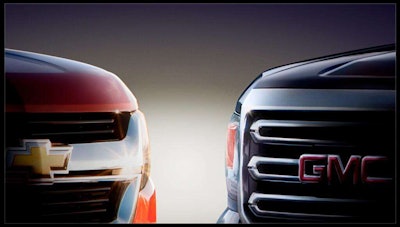 General Motors plans to add a diesel option to its U.S. lineup of compact pickups, the Chevrolet Colorado and GMC Canyon, according to a report from Automotive News.
The report says the pickups will get a variation of GM's 2.5-liter or 2.8-liter, four-cylinder Duramax turbodiesels—the engines GM already offers in the international version of the Colorado. The trucks would be the only compact, or mid-size, pickups on the market here in the U.S. with a diesel option.
GM is currently in the process of refreshing these pickups with a new design that brings the trucks more in line with their full-size siblings the Silverado and Sierra. We got our first look at this refresh through some spy shots in July. GM has said that these smaller pickups can handle 95 percent of the jobs as their full-size brethren.
Then, earlier this month GM released a teaser photo of the pickups, which you see above.
A source told Automotive News that the diesel option will be added to the Colorado and Canyon about a year after the fall 2014 launch of the redesigned trucks.
GM's decision to add this diesel option is more evidence of the influence of increased consumer interest in diesel here in the U.S. as fuel economy has risen to the top of most pickup owners' list of priorities.
Just last week, Nissan announced a partnership with Cummins that will add a diesel option to its Titan pickup through a 5.0-liter V-8 engine. Meanwhile, the 2014 Ram 1500 will have a diesel option as well.