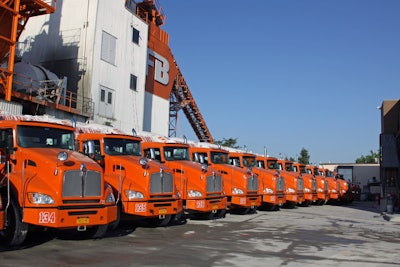 Ferrara Bros., a construction company from Flushing, New York has taken delivery of 15 concrete mixers equipped to run on compressed natural gas.
The McNeilus Standard ready-mix trucks are powered by Cummins Westport ISL-G CNG engines and configured on a single pusher axle with a gross vehicle weight of 80,000 pounds. Including its 17 CNG mixers, Ferrara owns a fleet of 75 mixers. The company eventually intends to become 100 percent CNG fueled, says Bob Gartman, vice president of operations.
"Ferrara is making the move to CNG because we firmly believe in reducing our country's dependence on foreign oil," Gartman says. "And we've had a very good experience with McNeilus and it's CNG operation."
CNG also offers the benefits of lower fuel costs. Prices vary across the country depending on access to natural gas supplies. But on a per-diesel-gallon equivalent (the same amount of energy/work as is available in a gallon) CNG is going for around $2, but in the oil and gas rich regions of the country you can sometimes find it for less than $1 per DGE.
Natural gas powered trucks cost more than diesel burners. The upcharge can be in the neighborhood of $30,000 to $40,000. But when natural gas is $1.50 cheaper than diesel, trucks running 70,000 miles a year are economically attractive. When the difference jumps up to $2.50 per DGE (where it is now), natural gas trucks are economically attractive at 30,000 to 40,000 miles per year.
In addition to the payback you also need to look at applications. Because the fuel storage tanks have to be larger, natural gas trucks work best in hub and spoke operations. In other words, the trucks leave in the morning and come back to the fueling point at night. This perfectly describes the work cycle of most concrete mixers and dump trucks.
The environmental benefits of CNG trucks are also impressive. These engines generate 20 to 30 percent less carbon dioxide, 90 percent less carbon monoxide, 35 to 60 percent less NOx.
And as Ferrara's Gartman notes, the fuel is produced in the United States, creating lots of jobs and helping our foreign balance of payments.
For a fuller treatment of natural gas engines and trucks see our article here.