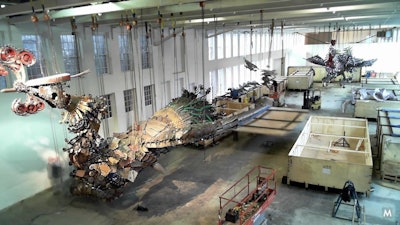 Artist Xu Bing spent 20 years away from his homeland of China, living and working in New York City. However, when he returned, the China he found was completely transformed. Urban landscapes had appeared with gleaming skylines, symbols of the country's rapid industrial and socioeconomic evolution.
Bing decided to visit a construction site to see the process of this transformation up close. He came away a bit saddened, but nonetheless inspired to create a sculpture known as "Phoenix."
"I went to a construction site and I was shocked. China has so many modern buildings, but you can't imagine how poor the working conditions and primitive living situations were. I think there is a huge contrast," he told The New Yorker in a Q&A.
According to the Massachusetts Museum of Contemporary Art, the birds are made of, "demolition debris, steel beams, tools, and remnants of the daily lives of migrant laborers."
The massive sculpture is made up of two phoenixes, mythical birds who die in a burst of flame before being reborn from their own ashes. (According to Western tradition, anyway. In Asia, the rebirth story isn't really associated as the bird is simply thought of as the female complement of the dragon.) The male phoenix is 90 feet long and the female phoenix is 100 feet long. Both weigh around 12 tons and are internally illuminated.
Be sure to check out the video of "Phoenix" being installed below. Skip ahead to about 2 minutes in.
[vimeo 64902383 nolink]