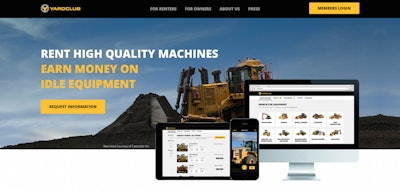 Most contractors outside of San Francisco have likely never heard of Yard Club. But thanks to an investment from and substantial partnership with Caterpillar, that's about to change.
Caterpillar announced today that it has entered into an agreement that will greatly expand the startup equipment rental service, founded in 2013.
Much in the same way as Material Tracker allows contractors to connect for purchasing or offloading materials, Yard Club is a peer-to-peer rental service that allows contractors to login and rent idle heavy equipment from one another. Equipment can be rented via the service's mobile apps on a smartphone or through its website on tablets and desktops.
Plus, all members are vetted by the service, meaning you can maximize your fleet investment without fear that you might not see a particular piece of equipment after handing it over.
As part of the agreement with Cat, Yard Club will get a huge inventory boost thanks to Cat dealer inventory being added in "specific metropolitan markets," in the U.S. and Canada. Cat says the service will continue to offer both Cat and non-Cat-branded machines. Of course, the addition of these dealer inventories will also mean a huge footprint boost for the young company.
Yard Club expects the inventory and service area expansion to be fully in place by midyear 2015. The agreement will put the company in a good position to better compete with services like Getable, a self-described "Uber for construction equipment," which pairs contractors with a network of equipment rental businesses.
"The sharing economy is changing the way entire industries operate," Colin Evran, founder and CEO of Yard Club, said in a prepared statement. "Our platform is at the forefront of that innovation in the equipment rental industry…Caterpillar has certainly reinforced its commitment to helping its customers succeed with this relationship."
The agreement with Yard Club is the latest in a string of technology and data-driven moves Caterpillar has made in recent months.
In March, the company announced an investment and partnership with another startup, Chicago-based Uptake, in order to speed up development of its Product Link telematics, crunching more data to deliver more predictive diagnostics to enable more repairs before failure on its machines. The company said it expects to release the first of these predictive developments "in the coming months."
In April, Cat reinforced that commitment with the creation of a new division dubbed Analytics & Innovation that will focus solely on data and creating new ways for its customers to put machine diagnostics to work. Shortly after that announcement, Cat acquired ESRG, a marine analytics firm.
Analytics & Innovation vice president Greg Folley said the Yard Club agreement is a great early illustration of the new division's mission.
"With all of the advances in peer-to-peer technology going on around us, we asked ourselves, why shouldn't our customers have the ability to share assets to increase efficiency and lower the cost of ownership? Our agreement with Yard Club will help make this a reality," he said.
Caterpillar's first quarter earnings beat estimates with a 20-percent boost in profit despite a dip in sales.