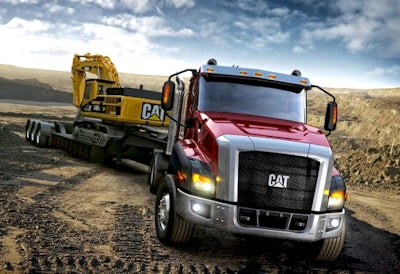 It's not too often that you'll see a construction boss smile while talking about an equipment operator mishandling a machine. But with a recent job, taking place hundreds of miles away from his office, Allen Feller got a taste of the magic of telematics.
Feller is the co-owner of Feller Enterprises, an excavation firm based in St. George, Utah. He runs an all-Caterpillar fleet outfitted with the manufacturer's Product Link telematics hardware and monitors his machines, a mix of owned and rented equipment, through the Cat VisionLink by Trimble web app.
"VisionLink is just so impressive. I had trucks are up there running 200 miles away and one day I get a call from Cat saying, 'Hey Allen, one of your trucks' transmission is at risk,'" he recalled. "Later on, I find out one of my drivers is popping that truck out of gear."
It's that type of preemptive action that makes telematics such a valuable tool for contractors. And Cat has announced a new initiative to further expand contractors' and fleet managers' ability to predict the future.
The heavy equipment manufacturer has made a minority investment in an analytics firm called Uptake as part of a partnership that will see the two companies develop predictive diagnostics technology for both Cat-branded and non-Cat-branded products in the next few years.
Caterpillar chairman and CEO Doug Oberhelman said the partnership will allow Cat to bring predictive improvements to its telematics service sooner and will mark the beginning of years of joint development between the two companies.
"We want to empower our customers with the insight necessary to shift from a reactive 'repair after failure' mode to a proactive 'repair before failure' stance," Oberhelman said in a prepared statement. "
Cat's relationship with Uptake began in 2014 when Uptake began developing locomotive-related predictive diagnostics and fleet optimization for Cat's Electro-Motive Diesel subsidiary.
Caterpillar did not disclose the specific predictive improvements it is working on for its construction equipment business, but the result of the Uptake partnership at the very least will result in a wider stream of actionable data for equipment owners.
The company said it will work with Uptake and its dealer network to roll out the first of these predictive improvements, "in the coming months."