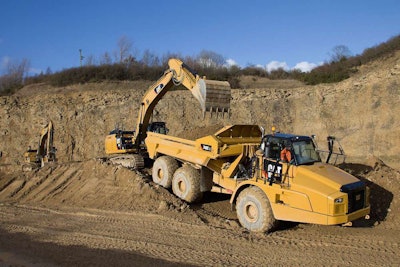 Following through on its March promise to work to begin rolling out predictive diagnostic improvements to its Produc Link telematics service "in the coming months," Caterpillar has announced the creation of a new division within the company that will focus solely on data and creating new ways for its customers to put the information to work.
The new Analytics & Innovation (AI) division will be led by Cat vice president Greg Folley, who has led the Reman, Components & Work Tools (RCWT) division since 2011. Cat says the new division will work to create a "connected analytics ecosystem," and manage the company's relationships with third-party providers like Uptake.
In March, Cat announced it had made a minority investment in Uptake, an analytics firm the company began working with in 2014. Cat CEO Doug Oberhelman said the aim of the investment is delivering heavy equipment operation data to customers in order to allow them to manage their fleet proactively, or from a, "repair before failure stance."
Cat says it will place some of the new AI division employees in Chicago with Uptake to accelerate the development of that predictive diagnostics platform.
"We can transform the mountains of incoming data—from a single machine or engine, an entire job site, the supply chain, a shipping location and much more—into valuable information for our customers and suppliers more efficiently and effectively than anyone else," said Rob Charter, Cat group president of Customer & Dealer Support.
As part of establishing AI, Cat will also be sending resources to Silicon Valley, "and has seeded money in a venture capital fund with the goal of investing in emerging technologies that could further enhance Caterpillar's product and service development," the announcement read.
The company announced current VP of Strategic Services Doug Hoer will replace Folley as the head of RCWT. The changes will take effect May 1.