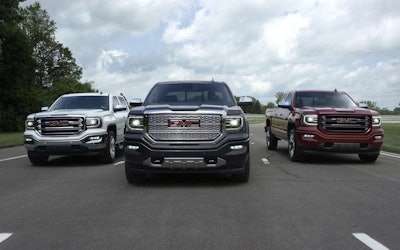 No. 3 Story in 2015
Thanks to some spy shots snapped while the truck was in testing back in April, we knew design changes were coming to the next-generation Silverado. And based on what we could see under the prototype truck's masking, it appeared GM's top selling half-ton was being brought more in line with the look of its very popular midsize sibling, the Chevy Colorado.
The automaker recently cleared things up for us however, revealing not only the Silverado's new front end design, but also that of the GMC Sierra.
Saying the 2016 Silverado now features a "more muscular appearance," GM says the truck's updated look includes "bold horizontal elements, sculpted hoods and dramatic lighting."
Meanwhile, the 2016 Sierra now features a redesigned grille and bumper along with C-shaped LED daytime running lights which wrap around the headlamps, giving the truck a more distinctive look. The C-shaped design was also applied to the Sierra's taillights.
In addition to the front end redesign, the Silverado will also gain an 8-speed automatic transmission with the release of the 2016 model later this year, along with compatibility with Apple CarPlay and Android Auto, giving customers a deeper connection between their smartphone of choice and the truck's entertainment system.
No power or other specs were shared about the trucks, with GM saying more information will be released closer their launch this fall.
While the redesign doesn't necessarily make the Silverado a larger clone of the Colorado, despite Chevy's invocation of "more muscle," the changes to the truck definitely soften its appearance a bit with more rounded edges.
If anything the new design lands somewhere in between the 2014 model year change and the previous design seen in the 2013 model year. We'll reserve judgement of the redesign until we see more photos of the truck and see it in person, but based on the photos alone, the Sierra seems to have benefitted the most from the updates.
Whether or not those changes were brought on by the sporty Colorado's early success remains to be seen, but it is interesting that GM would change the look of the truck—and these updates definitely change the look—so soon after launching a complete redesign with the 2014 model year.
As part of the announcement, GM noted Chevy pickup sales are up 32 percent on the year, adding the Silverado redesign comes in the hopes of spurring things on a bit more. Silverado sales are up 14.6 percent through June.