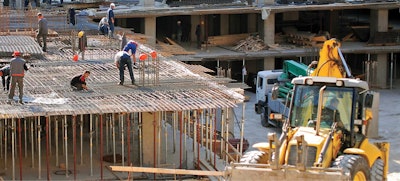 During the company's 2018 Outlook conference held in Washington, D.C., last week, Dodge Data & Analytics chief economist Bob Murray delivered his forecast for construction starts for 2019, saying that the industry can expect little change from the current year in 2019.
Murray says Dodge is forecasting $808 billion in total U.S. construction starts, up slightly from the $807 billion estimated for 2018.
The forecast expects a continuation of the construction industry's deceleration, which began in 2016 when growth in total starts dropped from the 11- to 14-percent gains seen from 2012 to 2015, to an increase of 7 percent. Starts grew 7 percent in 2017, but growth is on pace to fall to 3 percent in 2018.
"Over the past three years, the expansion for the U.S. construction industry has shown deceleration in its rate of growth, a pattern that typically takes place as an expansion matures," Murray says.
With this deceleration, Murray says many are wondering whether construction and the U.S. economy as a whole can expect it to be followed by another tumultuous recession. It's Murray's opinion that we're not in for a repeat of 2008 and 2009. However, that doesn't mean a recession isn't on the horizon.
Moody expert says recession likely in 2020
A presentation given earlier in the day at the Outlook conference directly addressed the looming recession. Christian deRitis, the head of consumer research at Moody Analytics, said that while he expects continued growth for the U.S. economy over the next nine months, it's unlikely to continue much longer afterward.
Economic expansions simply don't last forever. The current expansion in the U.S. economy began in 2009 and is currently the fourth longest in history, deRitis said. "We've injected the economy now with a lot of stimulants," he said. "We've spent our stimulus this time around. And we can't count on Congress to get us out of a recession when it does come."
Based on Moody data, deRitis says that the U.S. economy is likely to slip back into recession in the second quarter of 2020. Moody's expectation for recession is based on a number of factors including:
Housing starts remaining low
Slowing of commercial real estate activity
Insufficient infrastructure funding. "I view this as a major risk to (U.S.) productivity growth," deRitis says. "I would have thought when the current administration took office, infrastructure would be a primary focus. There was bi-paritsan support. But the tax cuts took priority."
Trade war with Chinese
What's impacting the construction industry in 2018?
Murray says positives for the industry moving forward are a relatively strong U.S. economy with GDP growth in 2018 expected to be 3 percent. In addition, bank lending standards have eased slightly and some restrictions, particularly those on midsize banks, found in the Dodd-Frank legislation have been rolled back. Finally, the omnibus federal appropriations bill for fiscal 2018 that passed in March included support for public works.
Murray says the Tax Cut and Jobs Act of 2017 was mostly a mixed bag for construction. While it helped the economy and aided the growth of commercial building, Murray says the bill has the potential to hamper housing growth, particularly single-family housing. "Once people start doing their tax returns there might be quite a shock in terms of deductions of what you used to have that you don't have anymore," he says.
The biggest challenges the industry faces, according to Murray, are rising interest rates, rising materials prices, tariff increases introduced by the Trump administration, and the ongoing shortage of skilled laborers.
Dodge Outlook segment-by-segment break down
>> Single Family Housing
Unchanged in dollar terms, alongside a 3-percent drop in housing starts to 815,000. Dodge anticipates a "slight decline in homebuyer demand as the result of higher mortgage rates, diminished affordability, and reduced tax advantages for home ownership as the result of tax reform."
Murray says affordability issues are dampening demand for housing, adding that high student debt combined with high and growing housing prices is making it difficult to get a down payment together for younger families.
>> Multifamily Housing
Down 6 percent in dollars and 8 percent in units to 465,000 (Dodge basis). "Market fundamentals such as occupancies and rent growth had shown modest erosion prior to 2018, which then paused this year due to the stronger U.S. economy. However, that erosion in market fundamentals is expected to resume in 2019," according to the report.
>> Commercial Building
Down 3 percent following 2 percent gains in 2017 and 2018, as well as the substantial percentage increases that took place earlier. "While 2018 market fundamentals for offices and warehouses are healthy, next year vacancy rates are expected to rise as the economy slows, slightly dampening construction. Hotel construction will ease back from recent strength, and store construction will experience further weakness."
>> Institutional Building
Up 3 percent. "Educational facilities should see continued growth in 2019, supported by funding coming from numerous school construction bond measures. Healthcare projects will make a partial rebound after pulling back in 2018. Airport terminal and amusement-related projects are expected to stay close to the elevated levels of construction starts reported in 2017 and 2018."
>> Manufacturing Plant Construction
Up 2 percent following an 18-percent jump in 2018. "The recent pickup in petrochemical plant projects should continue, and cuts in the corporate tax rate from tax reform should encourage firms to invest more in new plant capacity."
>> Public Works Construction
Up 4 percent on growth from most project types in this segment. "The omnibus federal appropriations bill passed in March provided greater funding for transportation projects that will carry over into 2019, and environmental-related projects are getting a lift from recently passed legislation."
>> Electric Utilities/Gas Plants
Down 3 percent. "New generating capacity continues to come on line, dampening capacity utilization rates for power generation."