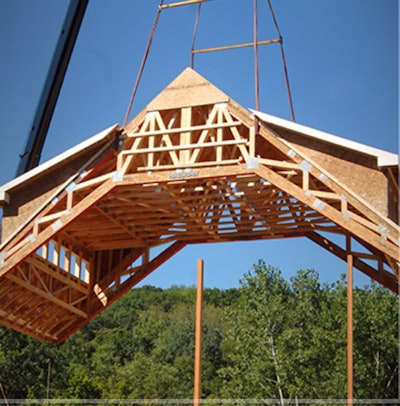 Universal Forest Products is reporting record financial results for the third quarter ending September 29 – the 13th consecutive quarter in which the company has reported records in both net sales and net earnings.
With a construction boom staying in full swing, 3Q sales were up 15 percent, and net earnings up 22 percent over the previous year for Universal. Sales reached a record $1.21 billion for the quarter.
"I want to thank the hard-working employees of Universal for once again producing record results, driven by strong unit sales growth of 7 percent and overall sales growth of 15 percent," says CEO Matt Missad.
"We achieved these results despite the headwinds we experienced from a quickly changing lumber market, rising labor, benefit and transportation costs, and the short-term effects of Hurricane Florence."
The company saw double-digit sales increases to customers in commercial construction (30 percent), residential construction (19 percent) and manufactured housing (10 percent).
Overall, lumber prices peaked in June and dropped substantially during the third quarter by about 25 percent, Chief Financial Officer Mike Cole said in an October 18 investors' call.
"In spite of this sequential drop, average prices were still up about 14 percent year-over-year, which increased our costs, selling prices, and investments in working capital compared to last year," Cole reports.
Earnings per share was up 20 percent to $0.66 per share versus 2017.
"Our gross profit dollars at a faster growth than our unit sales growth, indicating a more value-added product mix," according to Missad.
"Our installation of automation and technology has accelerated, and it is making us more efficient and reducing costs, as expected. And we graduated our first class of the degree program of the UFP Business School and placed eight of the nine graduates into career-building positions within the UFP family of companies."
While pleased to report another record quarter, Universal Forest Products can do even better, Missad says.
"We are improving our mix of value-added new products, investing in automation to address rising costs and improving performance at underperforming operations," he explains.
Sales were up 15 percent, with net earnings up 22 percent over previous year.
"Our overall sales in the construction market increased 17 percent, due to an 8 percent organic unit increase, a 1 percent increase in unit sales due to acquisitions, and an 8 percent increase in selling prices," Cole says.
"Within the construction category, our unit sales increased by 3 percent through manufactured housing, 11 percent through residential construction, and 18 percent through commercial construction customers. Our acquisition of Great Northern Lumber earlier this year contributed to our commercial construction growth."
Earlier this year, Universal Forest Products announced it had recently acquired four companies with a combined $50 million in annual sales.
Missad announced the four acquisitions in the company's first-quarter earnings call with shareholders.
Some 3Q highlights (year-over-year)
Diluted earnings per share were 66 cents, up from 55 cents
Net earnings attributable to controlling interest were $41.2 million, up 22 percent
Net sales were $1.2 billion, up 15 percent
EBITDA was $72.9 million, up 9 percent
Gross sales increased 17 percent in the construction market, 15 percent in the industrial market and 13 percent in the retail market
Unit sales contributed 7 percent of gross sales growth; higher prices due to the lumber market contributed 8 percent
Organic sales contributed 5 percent to unit growth while acquisitions added 2 percent
New product sales were $138 million, up 22 percent; year-to date new product sales are $407 million, up 25 percent.