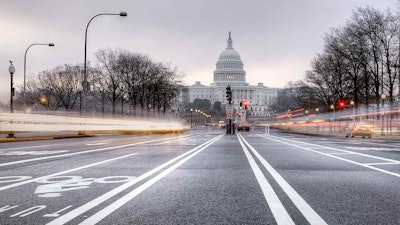 Earlier this month, the Senate passed a package of four spending measures for 2019 that contain infrastructure programs that provide funding for one or more federal agencies, including the Department of Transportation (DOT) and the Environmental Protection Agency (EPA), Engineering News-Record reports.
The Senate bill provides a 2-percent boost for the highway obligation ceiling, adds $3.3 billion from the general fund for highways and bridges, and gives airport infrastructure a $750 million boost to its $3.35-billion Airport Improvement Program grant funding. The bill also provides $1 billion for the grants program, formerly named TIGER. EPA wastewater-treatment and drinking-water infrastructure funds will remain about the same as in 2018.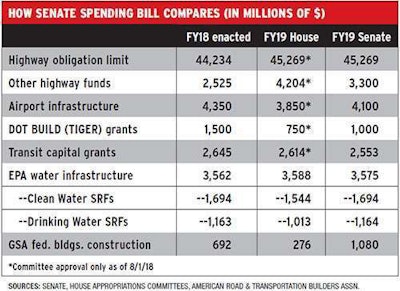 "It's a significant amount of money. And it's in all the program categories," said Brian Deery, senior director of the Associated General Contractors of America's highway and transportation division, referring to the additional DOT infrastructure funds combined with FAST Act funds, according to the news agency.
Still, the House and Senate will need to reconcile the differing amounts on their spending bills and agree on final numbers before Oct. 1, when fiscal 2019 begins. Looking ahead, another $10-billion infrastructure bonus isn't guaranteed for 2020, but industry officials point to remarks by lawmakers referring to the added 2018 dollars as a "down payment" for infrastructure.
For DOT programs, Deery says, "Certainly we're going to be pushing to keep the levels up in 2020," Deery said, according to the news agency. But he added that "When you talk about money, it's never a sure deal."