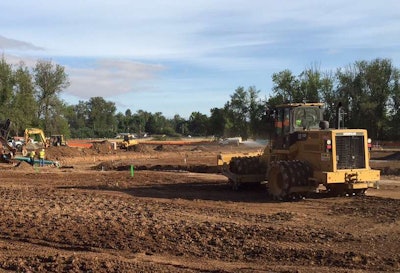 The start of construction on new homes in the U.S. fell 5.3 percent in September due to a sizable drop in multifamily starts.
According to an analysis of Commerce Department data by the National Association of Home Builders, seasonally adjusted annual home starts fell to 1.2 million units.
Single-family starts fell 0.9 percent to a rate of 871,000 units. Multifamily starts—which include construction of apartments and condos—fell 15.2 percent to a rate of 330,000.
Permits on new homes, a good indicator of where the market is headed, fell 0.6 percent for the month, also due to fewer multifamily projects, permits for which fell 7.6 percent to a rate of 390,000, NAHB reports. Single-family permits rose 3 percent to a rate of 851,000.
Builder confidence in the market, measured by the latest NAHB/Wells Fargo Housing Market Index, rose one point to a 68. Any rating over 50 indicates that homebuilders believe the housing market to be in good shape. The rating has been in the high 60s since June.
"Housing starts are in line with builder sentiment, which shows that builders are overall confident in the housing market but continue to face supply-side challenges," NAHB chairman Randy Noel, a custom home builder from LaPlace, Louisiana, said in a written statement. "Though lumber prices have declined recently, builders remain concerned about labor shortages, especially as the number of unfilled construction jobs has reached a post-recession high."
Noel says housing demand is "solid," and "fueled by a growing economy and a generational low for unemployment."
However, NAHB chief economist Robert Dietz warns that "housing affordability has become a challenge due to ongoing price and interest rate increases."
"Unless housing affordability stabilizes, the market risks losing additional momentum as we head into 2019," he says.
"This (housing starts) report is consistent with our forecast for gradual strengthening in the single-family sector of the housing market following the summer soft patch," adds Dietz. "A growing economy coupled with positive demographics for housing should keep the market moving forward at a modest pace in the months ahead."