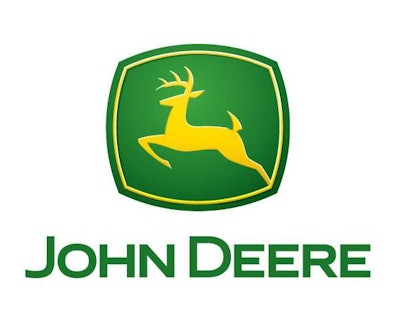 After smashing earnings records in 2013, three straight down quarters due to a global farming slowdown resulted in an unfavorable fiscal 2014 for John Deere, and the company expects things to only get worse in 2015.
The company announced a profit decrease of 11 percent to $3.162 billion during fiscal year 2014, which ended October 31. Sales for the year were down 5 percent to $34.998 billion.
"The slowdown has been most pronounced in the sale of large farm machinery, including many of our most profitable models," Deere CEO and chairman Samuel R. Allen said in a prepared statement. "Nevertheless, our success managing costs and assets and establishing a broad-based business lineup has allowed us to deliver strong results and remain in a sound financial condition."
For the fourth quarter, Deere reported a sales dip of 5 percent to $8.965 billion with profit tumbling 20 percent from the same quarter last year to $649.2 million, or $1.83 per share.
The company's agriculture and turf division, which accounts for the majority of its sales, saw sales fall 9 percent during the fiscal year. Operating profit for the division dropped 22 percent to $3.649 billion. During the fourth quarter, sales fell 13 percent while operating profit plummeted 31 percent to $682 million.
Meanwhile, the company's construction and forestry equipment division continued to show huge improvement during the fourth quarter with a 23-percent jump in sales and a 93-percent gain in operating profit to $228 million. For the fiscal year, operating profit increased 71 percent to $648 million. Deere attributed the gains to higher shipment volumes paired with lower costs.
Looking forward, Deere expects ag and turf equipment sales to drop another 20 percent during fiscal year 2015 due to continued weakening in the global farm economy. Deere says lower commodity prices and falling farm incomes are reducing demand for farm equipment, especially larger models.
The company expects construction equipment sales to continue to improve in 2015 and forecasts a sales increase of 5 percent during the fiscal year due to continued recovery in the U.S. economy and housing market and increased sales outside North America.