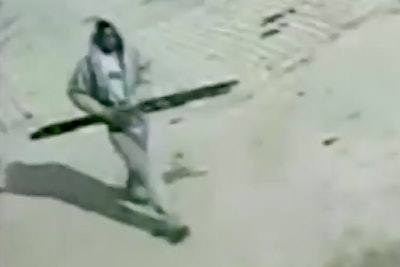 Law enforcement in Omaha, Nebraska, are searching for a man who stole thousands of dollars worth of equipment and materials from a contractor's equipment yard earlier this year.
According to a report from KETV, the thief made four trips to the yard between February and March. What he apparently didn't know—or maybe he just didn't care—was that surveillance cameras were recording his every step. In the video below, you can see the man saunter around the yard, slowly loading things into his small hatchback without a care in the world. On one occasion, it looks like he decided to wear a disguise as he's wearing a neon safety vest.
Among the items the thief stole were a Bobcat tooth bar, a wheelbarrow, gutters, steel concrete forms, pipe, strut bars, a manhole cover and even the top to a 1988 Corvette convertible.
Omaha Crime Stoppers is asking for help identifying the man. Anyone with information is urged to call 402-444-STOP.