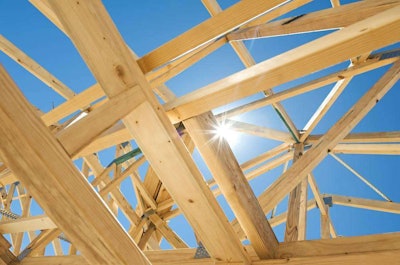 U.S. home starts fell 2.8 percent in October to a seasonally adjusted annual rate of 1.009 million, according to preliminary data from the Commerce Department.
The latest report also revised the September rate upward from 1.017 million to 1.038 million.
Home starts in the U.S. are now up 7.8 percent over October 2013.
For the last year, the rate of home starts has risen and fallen with that of apartments. Things were no different in October with apartment starts falling 15.5 percent to a rate of 300,000. The rate of apartment starts is now 6.8 percent below where it was last year at this time.
Single-family home starts rose for a second consecutive month, up 4.2 percent to a rate of 696,000. Single-family starts are up 15.4 percent year-over-year.
Meanwhile, homebuilder confidence in the market has nearly regained the ground given up in October when a four-month streak of increases was snapped with a five-point dip. November's National Association of Home Builders/Wells Fargo builder sentiment index shows an increase of four points to a 58. Any reading above a 50 indicates most homebuilders believe market conditions are good.
"Growing confidence among consumers is what's fueling this optimism among builders," said NAHB Chairman Kevin Kelly. "Members in many areas of the country continue to see increasing buyer traffic and signed contracts."
The rate of permits, a good barometer of what to expect from housing starts in the future, increased in October. Permits rose 4.8 percent to a rate of 1.031 million in October, up 1.2 percent year-over-year. The rate of apartment permits rose 8 percent to 406,000, while single-family authorizations rose 1.4 percent to 640,000.