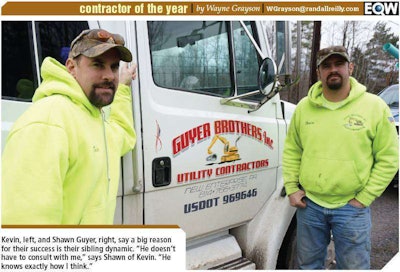 When talking with successful contractors, you often hear them credit the people that work for them. There's a reason for that. Most people in this business understand that their success is directly tied to how well their employees do their job. Happy employees tend to be the best employees and the business owners that make their employees' well-being a priority tend to do very well.
That being said, it's not all that often that you meet a contractor who says his or her motivation for starting a business in the first place was in big part their passion for treating people the right way. Typically, it's a love for the work itself that leads the charge.
But that's exactly how things got started for Kevin and Shawn Guyer.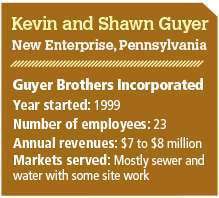 The brothers established Guyer Brothers Inc. in New Enterprise, Pennsylvania, in 1999, after deciding it was time they blazed their own trail in an industry they had known since childhood. The special dynamic the brothers share – Kevin works the office while Shawn leads the workers on the site – has helped the company grow each year. The company does mostly sewer and water line construction with a bit of site work.
"Growing up, our dad had his own construction company. He did smaller jobs and site stuff along with building construction. When Shawn was 12 years old he was running equipment. But by the time I got to that age, Dad had gotten out of the industry," Kevin Guyer recalls.
And though they both took jobs in construction once they grew up, the brothers never got to work together on the same crew, though they did carpool quite a bit while working at the same company. Kevin said he and Shawn decided to take the plunge after years of wanting to work together and being treated poorly by managers at past jobs.
"That was probably the biggest thing was the way we got treated. I can remember getting called 'retard' for stuff. That's not us. You can only take that for so long," Kevin Guyer says.
"We were riding back and forth to work together and we came to the conclusion that if they can do it, surely we can make a go of it."
Starting out
The brothers say they began by trying their hand at bidding five or six "trial run" jobs as practice. "We were just bidding and saw we were coming in fairly close to the other guys," Kevin Guyer says. "Then we had to get bonded and escrow everything. Our bonding limits were $50,000 or $100,000 to start out with so we were limited as to what we could do due to manpower and equipment."
To start, the brothers could only afford to buy one machine.
"With the backhoe, you can get by and do pretty much anything with it, smaller stuff of course," Kevin Guyer says. "That machine was our backfill machine for years. We still have that backhoe. It's probably one of the toughest pieces of equipment we own."
To complement the backhoe, they rented a skid steer, a single-axle dump truck and a 9-ton trailer. Six months and three jobs later they bought their first excavator and hired their first employee – their father. And for about six months, the three did all the work themselves.
For the first two years, the company had only one crew and was limited on the work it could bid because it was tough to tell just how quickly they would be available for the next job. "We'd always run into this thing where a job would go quicker than we thought it would and we'd have two weeks of downtime," Kevin Guyer says.
The brothers credit their stepfather Luke Earnst for helping them get the business off the ground. "He always said if we could make it past seven years, we'd be OK. So that was our first goal," Kevin Guyer says. In those early years, the biggest challenge for the company was having enough cash on hand. "We were strapped," Kevin Guyer recalls. "Your checks didn't come to you, they went to escrow to keep the bonding company happy. To get the bonds they want to see you're making more money."
"It was tough," Shawn Guyer adds. "We had to eat feathers, didn't we?", he says to his brother. "Our first year we probably worked harder and for less money than we were at our old jobs."
Early struggles aside, the company never had an issue staying busy in its first 10 years. And even with a slowdown in their market in the last few years, the company has managed to grow each year and now employs 23 workers and does a volume between $7 million and $8 million per year. "The market has slowed, but we haven't slowed down all that much. If anything our only snag has been permitting issues that engineers had," Kevin Guyer says.
Frederick County, Maryland, county project manager Mark Williams calls the company "the best contractor I've worked with in 30 years, hands down. I wish I could have them on every project," he says.
"I'll be at bid meetings and I'll hear guys from the municipalities say they hope Guyer gets the low bid," says Kevin Tanger, senior locations manager at L/B Water. "Sometimes they'll even go out of their way to try and make sure Guyer is doing the work for them."
Keys to success
When talking to the brothers about the reasons for their success, the biggest thing that stands out is the respect and trust they have in one another and how well splitting responsibilities between the jobsite and the office have worked.
"I don't want anything to do with that stuff," Shawn says of the business side of things. "He's really good at it too. Kevin is really good about finding us work. And when it comes time for him to make a big decision, he doesn't have to consult with me. He knows exactly how I think."
Beyond their relationship, the brothers agree that their employees are their biggest asset. And Kevin says a big part of that is Shawn's ability to manage a jobsite. "My brother has a lot of drive and push behind him and his guys are all really good guys," he says. And that's not an accident. Everyone that works at the company has been hand-picked and most are relatives or longtime friends.
Though not everyone at the company is family, the brothers do their best to treat them that way. "We pay everybody an operator's rate," Kevin Guyer says. "When I was working elsewhere I always felt that, yeah, the guy in the backhoe has a big responsibility. But so does the guy in the mud and the mess of it. We try to treat everybody and pay everybody as best as we can."
As an added bonus, the brothers take all their employees on a big archery hunt every year. And whenever it's time for ConExpo-Con/Agg, the company pays for any of its employees who want to make the trip to Las Vegas to do so. For the 2014 show, the company brought 18 of its employees.
Looking to the future and how the company will sustain its success, Kevin Guyer says much of it will depend on working hard in its current market and finding new ways of doing the same jobs more efficiently. "It seems like profit is tougher. If you want to stay busy and keep the guys moving, profits shrink a bit. You've got to innovate and come up with faster ways to do things," he explains.
"We've talked about the gas industry and there's a lot of work there. But that looks like it has hit its high point and there's a lot of other companies doing that work. And I feel like with those companies, if you're in, you're in, so we've tried to stick with what we know."
Whatever comes, the brothers know their relationship, their employees and the loyalty of their customers will play a big role in the company's future. Though they've been in business for 15 years, they say the feeling of finding and completing jobs at the company they own never gets old. "We've always enjoyed a challenge, I guess you could say, " Kevin Guyer says. "And at the end of the day when you've had a great day – where everything clicked – there's a feeling from that that you can't get working for somebody else."