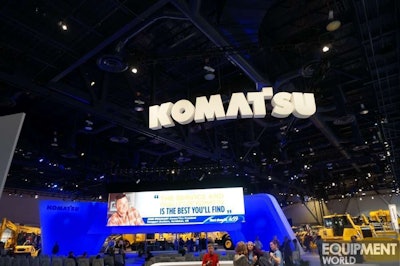 Sales and operating income at Komatsu are up during the first six months of the company's fiscal year, but the increases weren't enough to stave off a slight dip in profit.
The Japanese heavy equipment manufacturer reported sales of $8.3 billion (942.5 billion Japanese Yen), during the first half of fiscal year 2o14, which ends March 31, 2015. That's up 2 percent from the first six months of fiscal year 2013.
Operating income jumped 15.3 percent to $1.1 billion (125.6 billion Yen), but profit fell 1 percent to $684.6 million (77.9 billion Yen).
According to the company's earnings report, the slight jump in sales was mostly supported by demand for construction equipment in North America and Europe as well as the Japanese Yen's depreciation. These were also enough to compensate for continued low demand for mining equipment as well as a decrease in demand for construction equipment in China.
While the company's overall profit was down, Komatsu says its construction, mining, and utility equipment division saw an increase in profit.
In response to the latest results, Komatsu has revised its projection for full fiscal year earnings upward. The company has moved up its projection for net sales from $16.5 billion (1.88 trillion Japanese Yen) to $17 billion (1.925 trillion Yen). That would be a decrease of 1.4 percent from fiscal year 2013.
The company's expectation for profit is up as well, from $1.35 billion (154 billion Yen) to $1.4 billion (157 billion Yen), a year-over-year decrease of 1.2 percent.
The company says better-than-anticipated sales of mining equipment, "brisk" equipment sales in North America and a reassessment of foreign exchange rates are the reasons for the improved outlook.