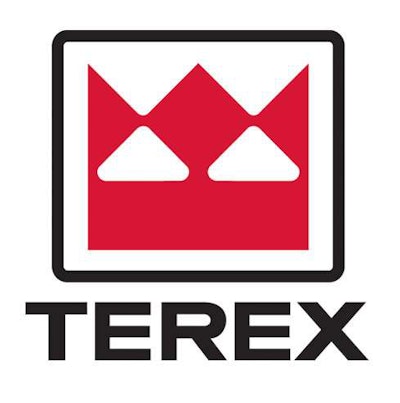 Despite a slight sales boost, equipment manufacturer Terex saw earnings fall during the third quarter and has reduced its earnings forecast for the full year.
Sales were up 3 percent over the same quarter last year to $1.8 billion, mainly due to the continued success of the company's aerial work platforms (AWP) segment and a boost in construction equipment sales. Each of the company's segments saw year-over-year sales increases except for its cranes segment.
However, profit fell 30 percent during the quarter to $58.7 million, or $0.51 per share. The company notes in its earnings report that excluding certain other costs, profit in the quarter would have been at $67.8 million, or $0.59 per share, a year-over-year decrease of 20 percent.
Terex Chairman and CEO Ron DeFeo said the results were largely as expected and noted that while the performance of the company's cranes segment met lowered expectations, the company expects to see improvement there in the fourth quarter.
DeFeo also commented on the success of its AWP segment, painting its performance as more of a mixed bag and pointing out the "removal" of 500 AWP employees during the third quarter as part of a proactive effort to cut costs moving forward.
"While our AWP business is performing well, we had planned for a stronger second half of 2014 than has materialized which has put pressure on margins," DeFeo said in a prepared statement, adding that the segment's profitability was also held back by currency movements late in the quarter as well as higher commodity costs and manufacturing costs related to the production of telehandlers at the company's Oklahoma City facility.
"As a result, we removed approximately 500 team members from AWP in the third quarter, which will aid in the return to more normal mid-teens margins within the next 12 months," he said.
The AWP segment accounted for $598.7 million in sales, an increase of 11 percent over the third quarter of 2013.
Meanwhile, construction segment sales jumped 10 percent to $207.3 million during the quarter. Crane sales fell 7 percent to $419.7 million.
Material Handling and Port Solutions sales rose 1 percent to $468.2 million and Materials Processing sales were up 5 percent to $155.6 million.
Looking forward, DeFeo says the company's outlook on 2014 remains to be an expectation of sales between $7.3 billion and $7.5 billion, despite a flat market. However, the company's earnings outlook has dropped from an expectation between $2.50 and $2.80 to between $2.35 and $2.50.
"Predicting market improvements has been challenging and in the near term we will be assuming flat markets and only performance improvements that we can control," DeFeo said. "Looking forward, we have identified improvement opportunities from cost reduction actions, interest expense declines and tax rate improvements. We think we can accomplish these in the next two years to provide meaningful improvement in our earnings per share even in a flat market."