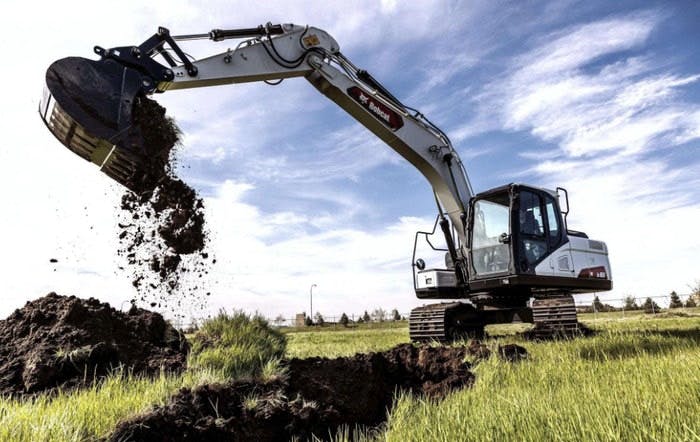 Seventeen dealers have been named to Bobcat's Dealer Leadership Group, honored for outstanding top performance across Bobcat's 325-plus North American dealer locations.
Dealer representatives in the group will meet with Bobcat senior leadership throughout 2021 to provide insights and feedback. In addition, Bobcat will honor members at a dealer incentive trip to Iceland later this year.
Dealers named to the group are:
American Rent All, Maryland
Bobcat of Buffalo, New York
Bobcat of Brandon, Manitoba, Canada
Bobcat of Chico, California
Bobcat of Fort Wayne, Indiana
Bobcat of Lincoln, Nebraska
Begone Incorporated, Nebraska
D.J.M. Equipment, New York
Bobcat of the Mountain Empire, Tennessee
Bobcat of New Hampshire
Bobcat of the Rockies, Colorado
FR Rentals, British Columbia, Canada
Ironhide Equipment, North Dakota
K.C. Bobcat, Missouri and Kansas
Rexco Equipment, Iowa
Swanston Equipment, North Dakota and Minnesota
White Star Machinery, Kansas
EquipmentShare adds another location
EquipmentShare has opened a new location in Colonial Heights, Virginia, to serve the greater Richmond-area construction market. This location will join the company's Virginia Beach location in serving the state.
With the announcement, the company says it's hiring to fill 20 jobs, including mechanics, service technicians, technology installers and drivers. The new location will have a fleet that includes general and heavy equipment and power solutions.
EquipmentShare recently told EquipmentWorld it intends to grow its number rental and sales locations to more than 100 by the end of the year, and will have 300 to 400 locations "over the next several years," according to Willy Schlacks, co-founder and president.
Minnich names top 2020 dealers
Minnich Manufacturing has named its top dealers for 2020, based on sales performance. Logan Contractors Supply, Des Moines, Iowa, has been named the company's top overall dealer and Midwest region top dealer. This is the fifth year in a row that Logan has received these two awards.
Other top dealers included Deaney Equipment, Indianapolis, which took honors for Minnich's northern region; Guaranteed Supply, Greensboro, North Carolina, was named the southern region top dealer; and Hub Construction Specialties, San Bernardino, California, won western region honors.
Minnich produces down pin drills, concrete paving vibrators and vibrator monitoring systems.
FTP signs Smith Power Products as western distributor
Smith Power Products will now represent FTP Industrial North America in the western U.S. Based in Salt Lake City, Smith began in 1965 as a distributor for General Motors Diesel, better known as Detroit Diesel. It is now headed by M. B. Smith, part of the firm's second generation, and has 11 locations across seven states.
Smith offers engine, powertrain and power system expertise for a variety of industries, including on-road, mining, petroleum, agriculture, power generation and manufacturing industries.
MANUFACTURER, SUPPLIER NOTES
JCB gets massive rental order, cites soaring demand
JCB's United Kingdom headquarters says it's just received the largest-ever order from a UK customer. Sunbelt Rentals has ordered 2,100 machines, including JCB Loadall telescopic handlers, compact, midi-sized and mid-sized excavators, site dumpers, and rough-terrain forklifts.
In addition, Sunbelt is buying 350 JCB access platforms, the company's largest deal since entering the powered access market in 2017. Sunbelt, the UK's largest equipment rental company, has 200 locations and a fleet of more than 250,000 machines, says JCB. It is a sister company to U.S.-based Sunbelt Rentals.
JCB also announced that it is recruiting hundreds of new manufacturing employees "as a result of soaring demand."
Hg acquires controlling interest in Trackunit
Software investor Hg has bought a controlling interest in Trackunit, which supplies telematics solutions for off-highway vehicles and the construction market. Hg calls Trackunit "a driving force in the digitization of the construction sector, serving equipment manufacturers, rental companies and contractors, connecting construction equipment and processing data to the cloud to deliver value-added insights."