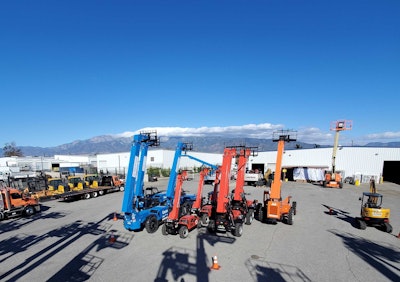 EquipmentShare
EquipmentShare continues its western U.S. expansion, opening up two new locations serving the greater Los Angeles and San Diego construction markets. The company now has four locations in California, and recently opened up a branch in Las Vegas.
Rental fleet inventory at both locations includes heavy, earthmoving, high-reach and specialty equipment. Machines are equipped with tracking hardware, allowing customers to monitor and receive alerts on equipment utilization, GPS location, fuel usage, maintenance history and upcoming service for each asset. 
"This is an exciting, important step for our business," EquipmentShare CEO and Co-founder Jabbok Schlacks said. "These are our first locations serving the greater Los Angeles and San Diego markets, and we're proud to be here. Our team is going to show our California customers what EquipmentShare is all about: outstanding, personal customer service, and next-generation fleet, outfitted with our game-changing technology to accelerate productivity for construction."
"Something we're really proud to offer L.A. and San Diego is a very personal touch," says Steve Beilman, general manager of both locations. "We're not territory-based, so we can provide each customer with personal interaction and assist them no matter where their jobs take them across the state of California—and beyond."
EquipmentShare says it's actively hiring at both locations for a variety of positions including mechanics, service technicians, sales, delivery drivers and technology installers. In addition, it's placing special emphasis on hiring veterans. 
"San Diego has a large military population; we're located near many bases," Beilman says. "Not only do we hope to serve those bases as their preferred equipment rental provider, but we're also on a mission to hire veterans who we know from experience bring a strong sense of dedication, determination and enthusiasm to the company."