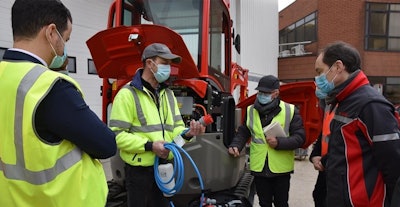 Volvo CE
When rental company Loxom purchased 18 Volvo ECR25 electric excavators, one of the immediate questions became how to best maintain them.
Volvo Construction Equipment's 2.5-ton diesel excavators were already the most popular model in the rental company's fleet, Volvo says. The electric ECR25 is designed to offer a full-powered alternative to its diesel counterpart, with a battery pack that offers a full day's work on one charge.
Loxom's technicians were well-versed in the diesel-powered machines; new skills were needed to maintain their electric cousins. Maintaining these machines so that they are always rental-ready became the new challenge.
Volvo CE met with Loxom technicians to go over diagnostics, maintenance and the use and handling of the battery systems, electric motors, charging systems and electric components.
Safety items were also addressed. "Electrical components on these machines are sealed/guarded, and technicians are trained to properly disconnect the high-voltage power for any parts before they are removed and replaced," Volvo says. Also up for review: the machine's non-electric components, such as hydraulic pumps, filters and hoses.
"This is an entirely different approach to how we would normally engage with dealerships during the sale of more conventional construction machines," says Sebastien Perusse, Volvo CE's sales manager for compact machines. "It's a great opportunity to not only create a new market that is fully equipped and energized to move to electric machines, but also to engage directly with customers and respond to their own unique requirements."
Loxom is the leading rental company in France and recently launched its LoxGreen range of equipment, which includes electric, hybrid and natural-gas-powered machines, Volvo says.
More on the ECR25
Volvo's zero-emissions ECR25 excavator, now in production, arrived in great fanfare at the 2019 Bauma trade show. Lithium-ion batteries and an electric motor replace the diesel engine, powering conventional hydraulics. It has an on-board charger that enables overnight charging through a 220V/240V socket. Using an off-board, DC fast charger, the excavator can be at 80% power within one hour of charge time. The on-board battery is expected to last eight to 10 years.
North American deliveries of the ECR25 are expected to start in June.
Since there are no current economies of scale, Volvo says its electric-powered machines will be priced at a premium over diesel-powered units, but counters that the electric machines offer better total cost of ownership since they reduce maintenance costs. (This is primarily because electric motors and batteries have few moving parts and do not require lubrication.) The primary cost driver now is the price of the battery.
"But as volumes increase, we expect prices to drop sharply and move towards parity with diesel machines," said Elodie Guyot, head of Volvo CE's electric compact excavator range, in a 2020 news release.