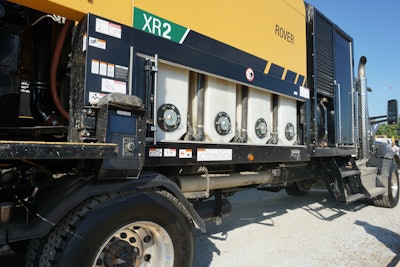 Electric truck maker Bollinger unveils its Class 3 B2 pickup, B1 modular SUV
Though we're still more than a year away from being able to buy one of these trucks, Bollinger has unveiled what we can expect when its all-electric pickup and SUV finally do hit the market.
Both trucks feature a dual motor setup and deliver 614 horsepower and 668 lb-ft of torque. With those specs behind them, they are considered Class 3 trucks, meaning they share the market with Ford's F-350 Super Duty and the 3500 heavy duty pickups from GM and Ram.
The B1 and B2 can run 0-60 mph in just 4.5 seconds and can reach a top speed of 100 mph. Pricing hasn't yet been announced and the first deliveries won't take place until 2021 since production won't start until next year, the company says.
To read more, click here.
---
Nissan unveils 2020 Titan: New look, more tech (VIDEO)
It was 12 long years between the first and second generation Nissan Titan. It only took another three for them to deliver the third generation, but based on the automaker's position in the light-duty truck market, it would not be accurate to call them a "short" three years.
But the Titan team isn't giving up. They're changing the approach a bit—in August we learned the next Titan XD will not have what was in 2016 a blockbuster feature in a Cummins Diesel engine. The design team, including designers who worked on the original 2004 Titan, also came up with a new look for the 2020 Titan trucks, one that they say is meant to convey power and all the technology the truck packs.
To read more, click here.
---
Manitou intros 4 aerial lifts to North America that meet new ANSI standards
After introducing a lineup of articulated aerial lifts to North America in 2018, Manitou is following up with four models of straight telescopic booms that will be rolling out to the market later this year.
All of the aerial work platforms, some of which were unveiled to the press October 9 at the company's North American headquarters in West Bend, Wisconsin, meet new ANSI standards scheduled to take effect December 10 in the United States. Manitou officials noted that the North American models have been sold in Europe for years and were already ANSI-compliant without needing modifications before coming to North America. That means the lifts have automatic load-sensing to prevent platforms from being overloaded, tilt sensing to prevent tip-over and other safety features.
To read more, click here.
---
2020 Ford Super Duty lays best-in-class claim to just about every major heavy duty benchmark
In the run up to the release of its 2020 F-Series Super Duty trucks, Ford has provided capability specs, claiming several best-in-class benchmarks along the way.
To read more, click here.
---
Vermeer's XR2 vacuum excavator separates liquids and solids on site, eliminating many disposal trips (VIDEO)
Now that hydro excavation and soft dig are becoming popular as underground contractors seek more ways to avoid utility hits, two basic problems with the process have come to the forefront, says Vermeer.
One is dumping the spoils in an approved manner. The other is getting an uninterrupted full day's service out of a hydrovac truck, which can reach spoil tank capacity before the day is over, causing work to stop while the truck travels to and from an approved dump site.
"Your crews are tied up and they are waiting," said Doug Hundt, president, industrial, Vermeer, during the bells-and-whistles reveal of the company's XR2 vacuum excavator at ICUEE.
To read more and view our video coverage, click here.