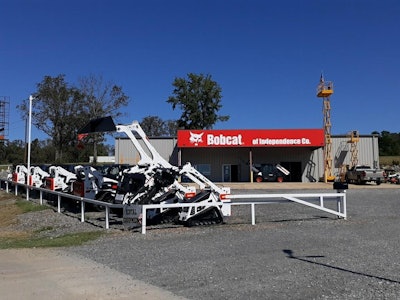 Bobcat of Independence County in Batesville, Arkansas, is the newest addition to the Bobcat equipment distribution network.
Bobcat of Independence County is owned by Steve Merritt, a 46-year veteran of the heavy equipment rental and sales industry. Merritt started Merritt Equipment Co. in 1973, and later opened Venture Equipment in 2006.
"We have a rich history in the light construction equipment business and loyal customers in the area," Merritt says. "Bobcat is a marquee product line that has few, if any, gaps in their lineup. Customers have different needs, and we'll have the opportunity to serve them with options that other brands simply don't have."
Merritt's Bobcat dealership distributes Bobcat equipment throughout north central Arkansas and serves a variety of markets including agriculture, construction, landscaping, mining and quarry operations. The dealership offers financing opportunities, free delivery within 10 miles, and parts and service personnel availability 24/7, 365 days a year.
"Bobcat is the leader in skid-steer loader technologies, being the first company to build the unit, and the name in itself explains what the unit is," Merritt says. "Customers are looking for a Bobcat skid-steer—why not give them exactly what they're asking for?"
For more information, contact Bobcat of Independence County at 870-569-1198.