United Rentals has announced its plans to buy BlueLine Rental in another major acquisition deal for the Connecticut-based rental giant.
BlueLine owner Platinum Equity and United Rentals have entered a definitive agreement for United to acquire BlueLine for $2.1 billion in cash, according to a press release. United says its board has unanimously approved the deal, which is expected to close in the fourth quarter of 2018.
The BlueLine purchase is the third large acquisition United Rentals has made in the last two years. In April 2017, the company completed a $965 million purchase of NES Rentals. In August 2017, United announced the acquisition of Neff Corporation for $1.32 billion.
BlueLine an attractive acquisition target
With 114 locations and 1,700 employees, BlueLine is one of the 10 largest heavy equipment rental companies in North America. Established in 2001, it is the former rental business of Volvo Construction Equipment. Volvo opted to sell the business to Platinum Equity in a $1.1 billion deal finalized in February 2014.
In turn, Platinum continued to grow the business through acquisitions. In September 2014, BlueLine acquired JustRuss Rental in Alabama. An acquisition of Trico Equipment Inc. followed in 2015, and the purchase of Washington D.C.-based Captial Rentals was announced in 2017.
In the 12 months ending August 31, United says BlueLine generated an estimated $313 million of adjusted EBITDA at a 39.8 percent margin on $786 million in total revenue.
Notably, the move will add larger earthmoving equipment to United's fleet offering.
"The acquisition of BlueLine meets all of our criteria for long-term, profitable growth at attractive returns," says United Rentals CEO Michael Kneeland. "We're executing our strategy of 'growing the core' in a strong demand environment to drive superior value for our customers and shareholders. Our company will be going to market with more talent, capacity and customer diversification than ever before."
The sale is a bit of a surprise as earlier this year, a draft registration statement was submitted to the U.S. Securities and Exchange Commission as first steps in making BlueLine a publicly traded company.
However, it's hard to imagine a better deal for Platinum Equity. The global investment firm, which has $13 billion in assets and a portfolio with about 40 companies, has nearly doubled its initial investment in BlueLine through the sale.
World's largest rental company gets even larger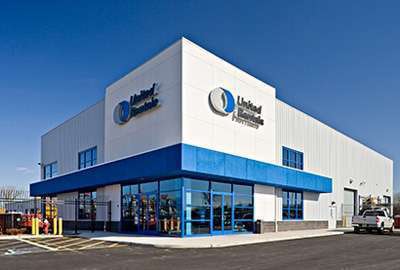 Through the purchase, United says its capacity in many of the largest metropolitan areas in North America will increase. The company notes that BlueLine, like United, possesses a "well-diversified" customer base and will add more mid-sized and local accounts to United's base.
Kneeland says BlueLine's equipment fleet provides a good complement for United's. United offers 4,200 classes of equipment with an original fleet cost of $12.4 billion. With the purchase, United says its fleet will expand by more than 46,000 rental assets with an original cost of $1.5 billion.
The primary change to United's fleet makeup will be the infusion of more and larger earthmoving equipment. While United currently offers backhoes and skid-steer/compact track loaders, BlueLine stocks those machines along with wheel loaders, compact excavators, excavators, trenchers and bulldozers.
United says the integration of BlueLine should be an easy one as both companies "have similar rental infrastructures," and "utilize many of the same technology systems." United notes that the companies share similar cultures as well, "including robust safety programs, an intense focus on customer service and an emphasis on talent development and engagement."
As of July 31, United operates 1,054 rental locations in North America, and 11 in Europe. The company has approximately 16,400 employees.
Financial impact
United expects the purchase to immediately begin to grow its adjusted earnings per share and free cash flow generation. The company says it expects the return on the invested capital to exceed the initial within three years of the deal closing.
United notes that the deal is not conditioned on financing. The company will use a combination of newly issued debt and bank borrowing to fund the purchase and related expenses.