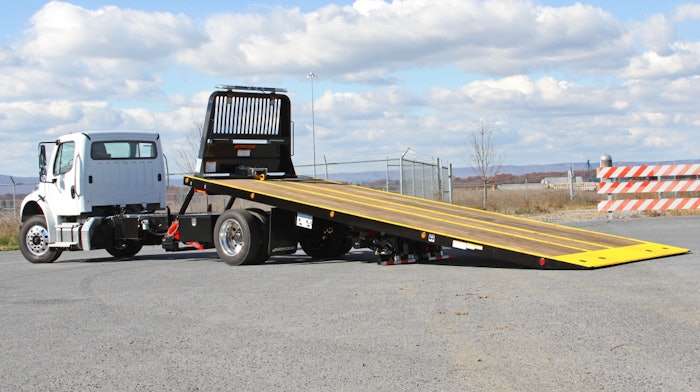 The American Rental Association (ARA) has opened its Cost of Doing Business Survey to member rental businesses in the U.S. and Canada.
"This survey is a tool that allows you to quickly identify the strengths and weaknesses in your operation in terms of productivity and profitability," says Greg Manns, senior vice president of Industry Insights, the independent research firm handling the survey. "It provides your company's ratios as well as the benchmarks for comparable firms within the industry. It also provides detailed ratio definitions and business improvement plans based on what you are trying to do."
Read the full story here.
Peterbilt reported at the 2017 Mid-America Trucking Show it has added 93 new dealer locations in the past four years, with many existing locations having also expanded or upgraded.
"Peterbilt has greatly increased our footprint in the industry to the benefit of our customers," says Robert Woodall, Peterbilt assistant general manager of sales and marketing. "The network expansion results in higher levels of service and enhanced parts availability, which translates into increased uptime and greater profitability for Peterbilt customers."
"Our dealer groups are committed to growing their footprint to support our customers and to deliver the highest levels of service and support," says Peyton Harrell, Peterbilt director of dealer network development. "New capabilities and expanded service bay count will also contribute to enhanced customer satisfaction. All Peterbilt dealerships throughout the U.S. and Canada are now certified in the Rapid Check program, which guarantees fast and accurate service diagnostics."
Read the full story here.
Kenworth has launched for its dealers the TruckTech+ Service Management platform aimed at providing service staff detailed information to streamline service and repair processes.
Kenworth made the announcement during the 2017 Mid-America Trucking Show.
The platform is powered by Decisiv and will include detailed chassis information, parts catalogs, service bulletins, warranty and repair history to help diagnose, estimate and complete service work, Kenworth reports.
"Beyond the dealer's service department, Kenworth TruckTech+ Service Management will be used to initiate service requests, and communicate estimates, approvals and status updates," says Kevin Baney, Kenworth assistant general manager for sales and marketing. "It streamlines communication among our customers, dealers, and Kenworth PremierCare Roadside Assistance representatives."
Read the full story here.
Atlas Copco Construction Equipment has added ROMCO Equipment to its dealer network to provide rental, sales and service for the company's line of compressors, generators and light towers.
"ROMCO Equipment's customer-first values, backed with their knowledge in the heavy equipment industry, makes for a great partnership with Atlas Copco," says Alan Kurus, vice president of sales for Atlas Copco. "With the addition of our portable energy equipment to its lineup, ROMCO expands its ability to meet the needs of existing customers while reaching a new customer base that it wasn't able to connect with previously."
ROMCO has primarily focused the heavy construction and mining industries in Texas, but with the addition of Atlas Copco products looks to serve additional industries, including oil and gas refineries and shipyards.
Read the full story here.
Jerr-Dann Corporation and JLG Industries, both part of Oshkosh Corporation, are teaming up to create a new 10 Ton Rental Spec (RS) Carrier to be used in equipment rental.
The Jerr-Dan 10 Ton RS Carrier will be available exclusively for the rental industry through JLG Industries in July this year.
"We are excited to introduce a new carrier for our customers in the rental industry, which was designed specifically for the equipment rental business affording rentability, efficiency and durability," says Jeff Irr, director of sales and marketing for Jerr-Dan. "The new innovation is only possible because of the synergies between Jerr-Dan and JLG integrating manufacturing knowledge and engineering expertise in order to bring a ground-breaking product to the rental industry currently not available."
Read the full story here.