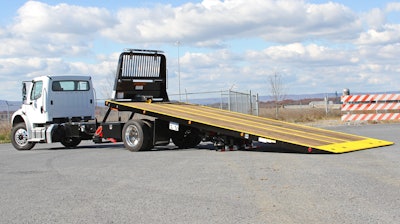 Jerr-Dann Corporation and JLG Industries, both part of Oshkosh Corporation, are teaming up to create a new 10 Ton Rental Spec (RS) Carrier to be used in equipment rental.
The Jerr-Dan 10 Ton RS Carrier will be available exclusively for the rental industry through JLG Industries in July this year.
"We are excited to introduce a new carrier for our customers in the rental industry, which was designed specifically for the equipment rental business affording rentability, efficiency and durability," says Jeff Irr, director of sales and marketing for Jerr-Dan. "The new innovation is only possible because of the synergies between Jerr-Dan and JLG integrating manufacturing knowledge and engineering expertise in order to bring a ground-breaking product to the rental industry currently not available."
The two companies entered into an agreement that will allow them to share "innovative technology and engineering resources" to design, construct and develop the carrier. The companies report rental companies across the country "expressed a need" for a carrier that could transport rental equipment and machinery.
"We are thrilled to see this new built-to-last carrier come to fruition and provide the rental industry with a product," says Bob Nelson, vice president for North America sales and service for JLG. "We're proud to partner with our sister company, Jerr-Dan, and highlight the strength of our Access Equipment market capabilities."
The new carrier features a dual operating box located on each side that was modeled after the aerial work platform control panels designed by JLG. It allows carrier operators to identify functions and operate the carrier. The 10 Ton RS Carrier offers lower mounted bed heights to allow for easier loading and unloading, the companies report, with no special chassis modification needed.
Standard features include:
All steel deluxe headboard with integrated 24" long grab handles and chain racks
Hardwood decking made with Brazilian Apitong wood available in 24 ft., 26 ft. and 28 ft. lengths
Anti-skid yellow paint treatment
Full-function wireless remote control, LED lighting and a deck-mounted 3-step fold-out ladder