Trenchers & Directional Drills
By Amy Materson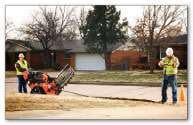 DIG DEEP
Dig trenches in tight spaces with Ditch Witch's RT80, an 83-gross-horsepower hydrostatic trencher that offers a compact footprint.
• Has a top speed of 9.9 mph to save time getting to and from jobsites
• Offers four combinations of torque and speed for adaptability
• Advanced cooling system and 30-gallon fuel tank ensure productivity.
Visit EquipmentWorld.com/info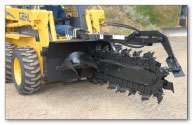 ABLE ATTACHMENT
Add trenching capability to larger skid loaders with Lowe's Model XR-21 hydraulic trenching attachment, which is designed to operate with 13- to 25-gpm hydraulic flows.
• Available in 2-to 5-foot digging depths; 6- to 12-inch trench widths
• Has a stronger motor mounting than previous models and features a tapered motor shaft
• Hydraulic pressure capability to relief settings of 3,300 psi.
Visit EquipmentWorld.com/info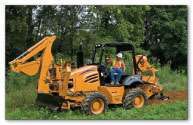 EASY TO OPERATE
Astec Underground's RT1200 trenches up to 84 inches deep and from 7 to 18 inches wide, and features a 121-horsepower four-cylinder Cummins engine.
• Operator's station is easy to access and has ergonomic controls
• Four-wheel steering ensures maneuverability
• Features a flywheel, torsion shaft and planetary gearbox for smooth operation.
Visit EquipmentWorld.com/info
SLEEK STABILITY
Simplify conduit installation with TT Technologies' Grundodrill 4X, which has a compact design for congested areas.
• Has 9,800 pounds of thrust and pullback
• Dual hydrostatic pump and four-auger stake down system provides stability
• Smart Vice system performs vice cycling operations automatically.
Visit EquipmentWorld.com/info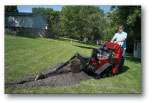 MORE MANEUVERABILITY
Toro's TRX-26 offers the power of a ride-on trencher with the maneuverability and control of a walk-behind unit.
• Toro Dingo TX-style control system eliminates jerk steering and enables precise trenching
• Three controls operate all traction and trenching functions
• Features 4.1-psi ground pressure and zero-turn capability.
Visit EquipmentWorld.com/info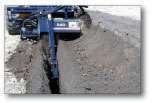 COST CONSCIOUS
Bradco's trenching attachment suits compact and standard size skid steers and tractors, and offers a range of sizes and tooth options.
• Cutting depths range from 24 to 60 inches; cutting widths from 3 to 12 inches
• Crumber and safety bar offers trenching precision and minimizes flying debris
• PTO shaft drive's heavy duty slip clutch protects against overloading and excess maintenance costs.
Visit EquipmentWorld.com/info

FLEXIBLE FUNCTIONALITY
Drill at any specified entry point ranging from 18 to 90 degrees with Vermeer's Navigator D20x22FX Series II flex angle drill.
• Fully functional hoVrizontal drill is also useful for steep-angle geothermal loop installations
• Equipped with an automatic rod loader that operates at a full vertical position, eliminating manual handling
• Drill is only 65 inches in width for greater maneuverability.
Visit EquipmentWorld.com/info