By Marcia Gruver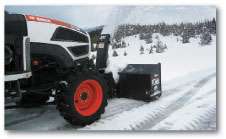 UPFRONT COMFORT
Front-mounted snowblowers are now available for Bobcat's CT120 and CT235 compact tractor models. Bobcat says front-mounted units are more comfortable for operators, eliminating the need to constantly turn around when working with a three-point snowblower. Tractors must have a mid-point PTO, loader joystick and control value to operate the snowblowers, which also require the removal of the front-end loader, tractor grille guard or front weight kit. The snowblower and lift kit fasten via two quick-release pins so the attachment can be attached or removed in minutes.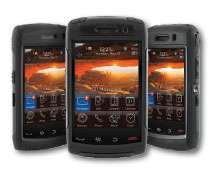 TOUGH SKIN
Give your Blackberry Storm2 phone extra protection with the Defender case from OtterBox. The Defender combines three layers of protection: a self-adhering clear protective screen cover, high-impact polycarbonate shell and a silicone skin to absorb bumps and shock. Acoustic vents go over the speakerphone and headset speaker, and isolation foam goes over the microphone to prevent dirt and dust intrusion.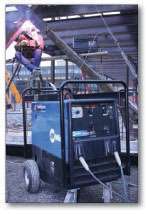 Editor's Pick
FUEL SIPPERS
Miller Electric Mfg. says it has the industry's only electronic fuel-injected engine-driven, twin cylinder welder generators: the Trailblazer 302 EFI and the Bobcat 250 EFI. Replacing the conventional carburetor with EFI improves fuel economy by up to 27 percent, reduces hydrocarbon and nitrogen oxide emissions by up to 33 percent and eliminates carburetor icing. Miller also increased the weld output to 12,000 peak/10,500 continuous watts. Both models are multi-process machines that provide stick, MIG, flux cored, AC/DC TIG and gouging capabilities. The Trailblazer welds 280 amps, and the Bobcat welds 250 amps, both at 100-percent duty cycle. Running the welders off generator power transforms the machines into multi-arc systems. Both machines have a protective armor made up of material similar to automotive bumper compounds.
SHEAR ROTATION
The hydraulically rotating Timberline Tree Shear lets you reach in with your excavator and cut up to a 14-inch-diameter tree in one cut. The shear has the ability to rotate after the cut, allowing it to act as a grapple to lift, wrangle and carry the felled tree. Using more than 70,000 pounds of force, the unit's T1 steel blade cuts cleanly and safely.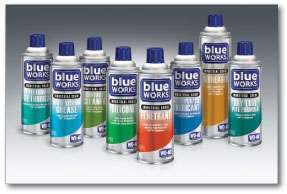 BLUE WORKS
WD-40 Company's new Blue Works line showcases eight industrial-strength, specialty maintenance products, including a degreaser, multi-purpose lubricant, penetrant and silicone. Formulated with a low surface tension and capillary action that penetrates into tight crevices, threads and seams, the Blue Works penetrant frees struck and corroded parts and inhibits rust and corrosion. The line's degreaser has a 5-foot spray that removes grease, oil, dirt and grime on engines, forklifts, gears, chains and other metal tools.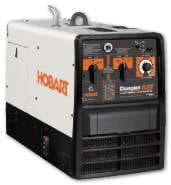 WELDER GENERATOR
The Champion Elite welding generator from Hobart Welding Products combines a 11,000-watt peak power generator with an AC/DC welder. Offering both AC stick or scratch-start DC TIG welding processes, the unit has a 12-gallon fuel tank for extended operation.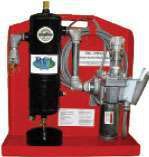 CLEAN FUEL
RCI Technologies' Emergency Fuel Transfer and Filtration Unit can be used to clean stored diesel fuel and transfer fuel between tanks. The portable unit has a FP 700 fuel purifier with a 8-gpm flow rate, a 12-volt, .5-horsepower motor, 10-guage power cord with batter clamps, detachable hoses and a thermal protection circuit with on/off switch.
DIG SAFE
Designed for increased safety in pipelaying applications, Hammersmith's Flexx Right bucket combines a flexible, mark- and impact-resistant high density polyethylene lower section with a steel frame and mounting ears. The 30-inch-outside-diameter bucket is available for major brands of backhoes and compact excavators.