Sponsored Information Section
Paver, roller help asphalt company in tight urban location
Brand-new, high-tech paving equipment is helping South Carolina's King Asphalt pave in tight urban quarters.
In October, using an HD+ 120 VV HF high frequency roller from Hamm Compaction Division, and a Vision 5200-2 10-foot tracked paver from Vögele America, King Asphalt placed 600 tons of hot mix asphalt on Ashmore Bridge Road, Greenville, South Carolina, in a congested city location.
Elsewhere in Greenville, King's W 1900 Combo from Wirtgen was cold milling urban streets for the South Carolina DOT, a project funded by the American Recovery and Reinvestment Act.
"We're leveling on one end of the road, then paving the entire main line down 1,800 feet," says Danny Michael, paving operations supervisor, King Asphalt, Liberty, South Carolina. "We're placing 2 inches of Type B surface mix, a coarser main line mix, compacted to 1 3?4 inches." The width ranged from 40 feet wide at intersections, to 24 feet wide in the main line.
The organization of the paver's components makes day-to-day operation easy, Michael says. "After we set it up a couple of times, and saw what goes where, we found it to be pretty simple," he says. "Its tractor is really powerful. We've already extended it out to a full 19 feet, and even then it has no problem pushing a truck."
King Asphalt's new Vision 5200-2 has Vögele's exclusive Niveltronic system, complete with averaging beam. "We haven't put it to its fullest use yet, but we use it every day," says King general manager Mike Crenshaw. "We really like the way the Niveltronic system is intertwined into the rest of the paver. All the leveling controls tie in to the control panel, with no extra boxes." The averaging beam is 40 feet long, and two extensions will bring it to 50 feet.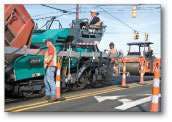 The fact that the Vision generator is under the hood makes a big difference for King. "That helps visibility and makes changing the screed much easier," Crenshaw says. "The generator for the screed heat is not on the screed itself."
The Hamm roller also was new in 2009. "The HD+ 120 gives us a lot better compaction than we used to get," Michael says. "The vibratory system sets speed and vibration together automatically. The operator will set the vibration, and no matter what speed he's running, the vibration will stay the same. It's set automatically, but it's variable. As he takes off, the vibration automatically starts. As he slows down, it stops itself."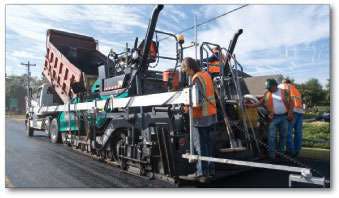 And the high-vibration of the VV HF model is giving King Asphalt the edge it needs to win bonuses. "We have been able to get full pay a lot more consistently with the roller, and get some bonuses as well," Crenshaw said. "We have to get a 92, but with the HD+ we consistently get 93s and 94s." EW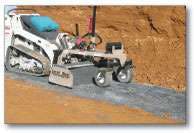 Versatile grading box available in range of widths
ATI Corporation's fully automatic Level Best grading box brings machine control to compact tool carriers. The unit's push-pull design enables forward or reverse grading up to 1/8-inch elevation accuracy. Available in 48-, 54-, 60- and 66-inch widths, the box works with Apache, AGL, Leica, Trimble or Topcon laser controls.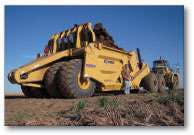 Move it all with pull scraper
Reduce dirt moving costs with K-Tec Earthmovers' largest construction pull scraper, the 1254 ADT. Designed to be pulled with a six-wheel-drive 40-ton ADT, the 1254 ADT has a heaped capacity of 54 cubic yards and empty tare weight of 49,000 pounds. Featuring an extra 11 yards and 2-foot higher side wall than the 1243 model, the 1254 ADT serves as a haul wagon when paired with an excavator.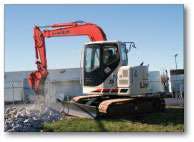 Work in tight areas with minimum swing excavator
Dig and lift on congested jobsites with Link-Belt's 75 Spin Ace minimum swing radius excavator, which is certified to EPA Interim Tier 4A emission regulations. The 54-net-horsepower Spin Ace offers fast cycle times and delivers efficient power. A blade attachment is standard, and an optional offset arm enables in-line digging against structures.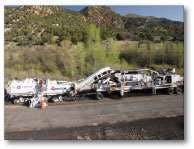 Recycler efficiently reuses hot mix asphalt layer
Roadtec's cold-in-place recycling train, a cost-effective alternative to conventional methods of rebuilding asphalt roadways that reuses 100 percent of the old HMA layer, employs the Roadtec's RT-500 cold recycler to crush and screen RAP produced by the RX-900 cold planer, and an on-board pugmill mixes emulsion into the recycled material. A windrow loader can pick up the material and feed it to a conventional paver; however, an optional conveyor can load directly into the paver from the RT-500.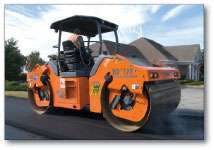 Roller simplifies frequency and amplitude adjustment
Improve performance with Hamm's HD+ Series of asphalt rollers, available in the 13.8-ton HD+ 120 or the 14.5-ton HD+ 140 models. Choose from three models in each size – conventional vibration in both drums, vibration in the front and oscillation compaction in the rear or high frequency vibration to 4,020 vpm. Frequency and amplitude can be controlled independently on either drum for increased flexibility in the roll train, and can be adjusted by the operator on the dashboard.
Customize compressor unit to your needs
Vanair's Air N Arc All-In-One Welder/Generator/Air Compressor/Battery Booster combination units eliminate the need for a separate welder and compressor on your truck, reducing weight and saves space. Remote oil drains, easy access to air filters and tank drains and self cooling and cleaning link belts ensure simplified maintenance. Designed with a two-generator system, Air N Arc units allow the user to run any AC system during the weld process. Units are available with 20 to 24 cfm and up to 175 psi and 5 to 10 kW of AC power.
Add sander attachment to truck conveyor for added versatility
Eliminate the need for sand and salt hopper trucks with the Road Sander Attachment from Hydraulic Truck Conveyor. The unit sands one or two lanes of highway, and saves changeover downtime on multi-use equipment.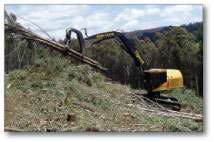 Shovel logger tackles steep terrain
Forward timber over steep terrain with Tigercat's purpose-built LS855C Shovel Logger, which has an FH400 super duty undercarriage for stability. A retracting clamshell style closure provides easy access to the Mercedes engine, and hydraulic pumps and valves are separated from the engine. The high capacity cooling system has an automatic variable fan speed to improve fuel efficiency, and an automatic reversing cycle to easily clean the heat exchangers. ER boom technology ensures performance and efficiency.
Lube body allows you to choose configuration
Simplify your fleet maintenance needs with an Eagle Pro Lube Body from Service Trucks International, which are available in a variety of configurations. Choose from standard lube bodies, fuel/lube bodies or combination lube/service bodies. Modular construction allows for different tank sizes and combinations on the same body base. Control dispensing functions with ease and accuracy with in-cabinet fluid gauges.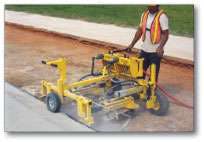 Increase production with on-grade concrete drills
Perform straight-line drilling on a level subgrade with E-Z Drill's Model 210B Series on-grade concrete drills, which are useful for lane additions and large patchwork jobs. The two easily positioned models, the 210B and the 210B-2, have a compact frame that allows drilling to an 18-inch depth within a 4-foot area. An optional vertical conversion kit enables each unit to switch from a horizontal drill to a vertical drill within 20 minutes.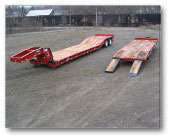 Trailer's incline angle offers easy access
Choose your design with Rogers Trailers' Blacktop Series, which features the Gentle Riser trailer. A 16-degree angle of incline offers safe access from the deck to the rear frame, and optional depressed riser center beams accommodate an excavator stick. The Gentle Riser is available in 35- to 60-ton capacities with 22- to 28-foot deck lengths. For smaller loads, the 20-ton capacity TAG20L features a 19-foot flat deck with 6-foot beavertail and 8-degree ramp.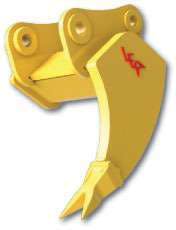 Rip side walls flat with offSet ripper
Easily rip asphalt, rock, coral shale, frozen ground and other materials with Leading Edge Attachments' Offset Single Pointed Ripper. Designed for 6,000- to 300,000-pound excavators and backhoes, the ripper enables the operator to focus the carrier's full breakout force on one offset tooth, providing the ability to rip a side wall flat. The ripper's short shank increases ripping forces.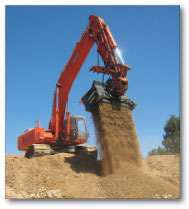 Screening bucket handles range of material
Perform a variety of separating jobs with Remu's classifying tool. Useful for processing material such as clay, compost and topsoil, the screening bucket also works on wet material. The cost efficient attachment simplifies separating, mixing and padding tasks, and is easily transportable.
Self-contained compact lifter handles 3 tons
Lift and move steel plate, concrete slab, rock, pipe and more with Vacuworx's MC3 Mini Lifter system, which features a 6,600-pound lifting capacity. Designed with the underground utility contractor in mind, the MC3 attaches to standard and compact machines.
Accelerate production with cold milling machines
Wirtgen America's W 200 and W 210 cold milling machines feature Parallel-to-Surface technology to keep the cutting housing level as the machines move into a cut, and WIDRIVE technology that ties all main machine functions to a single source. An Intelligent Speed Control system incorporates an electronic flow divider that synchronizes the four tracks when turning a radius, eliminating skipping and notching.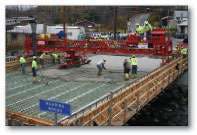 User friendly bridge deck finisher incorporates hydraulic controls
Allen Engineering's Model 4836B Bridge Deck Finisher has all hydraulic controls powering the mainframe and dual-roller finishing carriage. The 4836B features a 36-inch-deep mainframe, manual crank legs and a 5-inch hydraulic lift. The dual finishing rollers measure 8 inches in diameter by 48 inches long. The unit also has a hydraulic-controlled roller tamper and a single drag pan with burlap drag.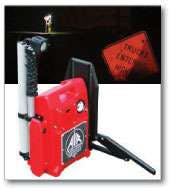 Small unit offers big features
Air Systems International's Mini-Cube portable LED light is a lightweight unit specifically developed for highway flaggers. The 33-pound Mini-Cube is 24 inches in height with the pole collapsed, and has an 8-foot aluminium extension pole. The unit has an 800-lumen LED and a 40-hour rechargeable battery pack.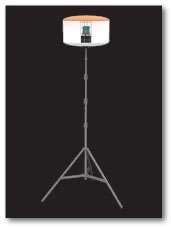 Save energy with Sirocco 2
Airstar's new Sirocco 2 4X150 HI metal halide light delivers the same level of illumination as the Sirocco 2000W halogen light that uses three times more power. The unit has four lamps running independently with ballasts built into the system, and comes equipped with an anti-vibration system for mounting to moving equipment. The lamps have 12,000 hours of life, and feature a tubular shaped envelope to increase the spread of light.

Inverted hydraulic cylinder improves dumping
Jet's trunnion-mounted, inverted cylinder design delivers a controlled dump cycle and improved trailer stability. Pivot geometry works to maintain a more consistent tub speed throughout the dump cycle, and the design decreases tub acceleration while increasing trailer stability. The unit also has a rounded tub, no inside divider, a large top rail and greaseless pivots.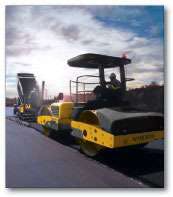 SMART system improves efficiency
Increase productivity with Volvo's DD118HFA and DD138HFA compactors, which offer SMART drum technology useful for a wide range of applications. Each of the eight amplitude settings is automatically adjusted to the highest frequency for that amplitude selection, enabling the operator to use lower amplitudes with higher frequency on thinner lifts, and higher amplitude with lower frequency on thicker lifts and stiffer materials. The SMART vibration system automatically adjusts vibration frequency for both drums to the design frequency for the given amplitude.
Trailer series now features increased capacity
Landoll's 400 Series Traveling Axle trailers include the triple axle Model 455, which now has a 55-ton capacity. The 455 has Landoll's centralized grease system as standard, and includes a high-visibility decal package to improve safety and awareness when working at night. Landoll has also increased capacity on the 410, 435 and 440.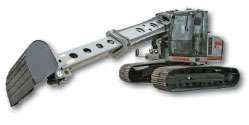 Short swing enables work in tight spaces
Work on road demolition and grading with minimal traffic obstruction with Gradall's XL 3200 III crawler excavator, which has a counterweight design that shortens the rear swing of the machine. The LX 3200 III has a 22,075-pound rated boom force and 19,300-pound bucket breakout force. An in-cab switch allows the operator to select the Gradall, Deere or SAE joystick pattern, and the cab features standard air conditioning and removable overhead skylight and front window.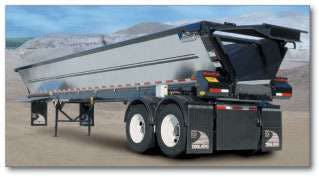 Trailer hauls more payload
Deliver 2,000 pounds more payload than previous models with Trail King Industries' Advantage Series Live Bottom asphalt trailer, which offers all the benefits of live bottom horizontal discharge with a strong but lightweight design. Sixty-degree sloped walls reduce load segregation during transport, and a heat and oil resistant two-ply rubber continuous belt moves the load to the rear for discharge. A one-piece drive shaft eliminates problems associated with chain drives.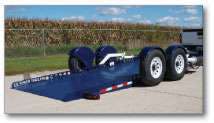 Make loading a one person job
Load cargo fast and efficiently with Advance Metalworking's 14,000-pound capacity Lo Riser inclining platform trailer. The Lo Riser has a 74-inch-by-16-foot load carrying platform that lowers hydraulically to ground height with the flip of a switch, enabling one person to load and transport equipment. The trailer is construction of high strength low alloy steel for durability.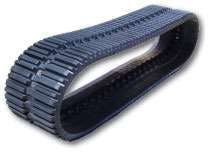 CONTAIN CRACKS
Extend track life with McLaren's NextGenTDF tracks, which have a quarantine system that helps stop the growth of cuts and cracks. SpoolRite continuous belt system increases tensile strength of the tracks. Features multiple lugs per pitch for a smoother ride. Track system exposes less area of the track body, reducing potential for damage.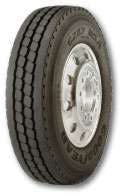 MORE MILEAGE
Goodyear's Unisteel G287 MSA mixed service tire features a high mileage tread and wide footprint, delivering up to 40 percent more miles to removal than its predecessor. Handles heavy loads in highway travel. Some sizes available with DuraSeal technology for lower repair, downtime and replacement costs. Improved belt package and flat tread radius enhances cornering and grip by up to 20 percent.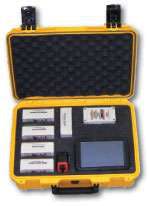 Excavator depth monitor eliminates depth rechecking
Increase productivity with Ocala Instruments' ExcaVision system, which is available in two sizes for large and small carriers. Wireless systems feature simple installation. The instrument shows depth, slopes, horizontal distances and how much remains to be graded.