Harry Covely, Jr., Sewell, New Jersey
Finding what you do well and sticking with it is this contractor's formula for prosperity.
By Amy Materson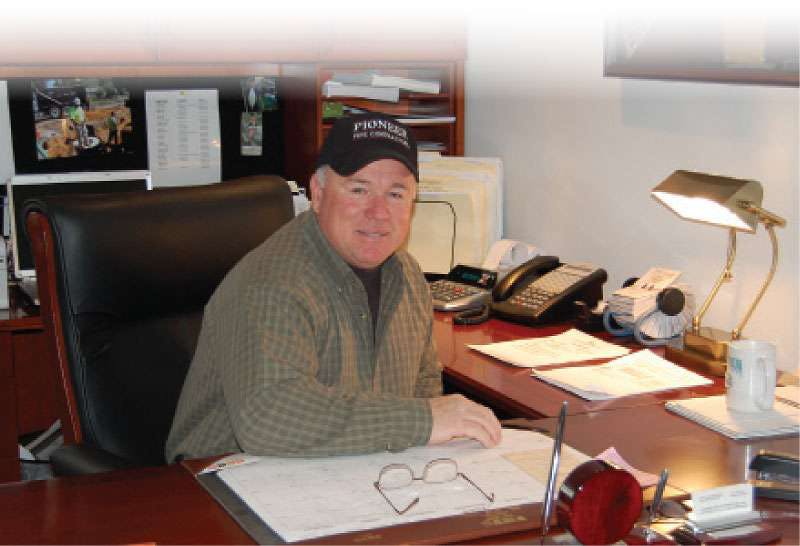 Sticking with what you know may seem a simple idea, but Harry Covely has made it a working philosophy. Working for a local construction company in 1975, Harry was fortunate enough to find a mentor in his supervisor, Paul Calhoun, who taught him everything he knew. After the company dissolved in 1977, Calhoun went out on his own, taking Harry with him. When Harry started his own company, Pioneer Pipe, in 1987, he was ready to put that knowledge to good use.
Although Pioneer Pipe in the early years worked mainly with local developers on small private jobs, Harry knew he wanted to find a niche. By the year 2000, the days of performing mostly private work were long gone. Pioneer Pipe does utility work for townships and utility companies – a situation Harry remains content with. "There are no markets I'm not in that I want to be in," he says. "We're busy with what we do, and we stay with what we're good at."
Employee relations
Even struggling in the midst of a dismal economy, Pioneer Pipe experienced exponential growth – 100 percent in 2008 alone, and holding steady for 2009. By February of this year, Pioneer Pipe already had $4 million on the books for 2010. They've purchased a new loader, and Harry is bringing in his brother David as safety and traffic coordinator.
Harry gives the credit for their success to his employees, particularly a core group who has been with him since he started his business. His son Jeffrey, now 28, has worked with him since starting part time at age 12. After graduating high school, Jeff attended college for a year and then returned to Pioneer Pipe on a full-time basis, where he now assigns crews and runs field operations. Foremen Dante McCleery and Gino Atencio, office manager Mary Aliberti and shop superintendent Kenny Jones are also high on Harry's list. "It's embarrassing how good these guys are," he says. "I've got the two best excavator operators in South Jersey, also."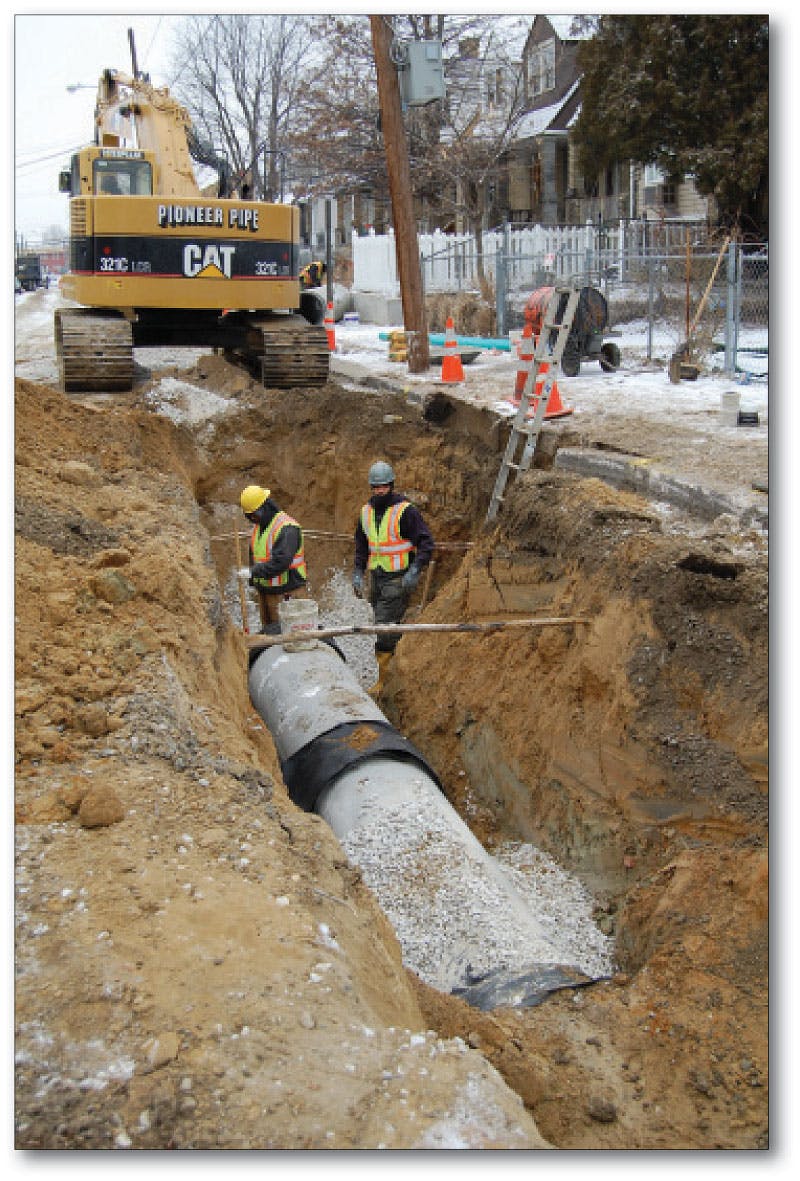 John Graham, construction supervisor with New Jersey American Water, says Harry's employees are intensely loyal. "Pioneer does about 60 percent of our work, and I deal with about 10 of his employees," he says. "They'd take a bullet for him." Harry describes himself as a hands-on employer and ensures the younger operators receive proper training. "They're taught to do things our way," he says. "They work the same if I'm next to them or not. All of my guys are like that. We work together."
Having experienced a good mentor, Harry has become one himself. When Mike Armbruister, a 10-year employee at Pioneer Pipe, expressed interest in becoming an owner-operator, Harry was supportive and helped him get his CDL. Four years later, Armbruister wanted to return to Pioneer Pipe. Harry welcomed him back and even bought some of his equipment.
Taking care of his employees is Harry's number one priority, so he's a stickler for safety. He's never had an OSHA violation, and never had a serious incident. "I make sure they have a safe environment, and I have top-of-the-line equipment," he says. Ironically, the only recent injury on record – a broken leg – was Harry's.
'A nice little niche'
With his stated goal of being the best pipe guy in South Jersey in sight, Harry has resisted the temptation to branch out, even with the encouragement of his son and his estimator Chris Cummins. "So many guys around here pave," he says. "We don't do our own paving." Since the economy in the area has suffered for several years, Pioneer Pipe has taken on joint ventures, particularly with a larger contractor, Pierson Construction. "They do the paving, we do the pipe work – it's good for both of us," Harry says. Pioneer Pipe also works with Command Company, a general contractor based in Medford. "We complement each other on a lot of jobs – sometimes they work for us and sometimes we work for them," says Command owner Doug Marinski. "As a client, we couldn't ask for anything more. He's accommodated us every single time."
Pioneer Pipe has also established a reputation as the go-to guys for emergency repair work. Doing a good job quickly – and at a fair price – ensures repeat customers. "It's a nice little niche, and the guys know that when they call, we go," Harry says. "We had a job on Christmas Day, and the first five guys I called to go out said 'I'm in.' We know we need to give them great service or someone else will."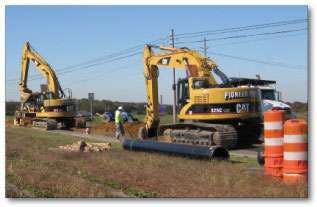 Clients and employees aren't the only ones Harry tries to cultivate excellent relationships with. He loans equipment and trucks to other contractors and townships when needed. "We help each other out. It's not a crime to make money, and we know we can't get every job."
Ken Jones, a supervisor with Mount Ephraim MUA, says he'd recommend Pioneer Pipe to anyone. "He will work with you and do the best he can for you," he says. "Sometimes he suggests a better way that will cost you less."
Business matters
Although Harry buys the occasional dump truck at auction, he primarily buys new equipment and enjoys long-term relationships with his equipment dealer, Ransome Cat, and his bank, First Colonial. "The president of the bank gave me my first credit line on a handshake," he says. "They gave me loans and floated payroll. Giles and Ransome has been good to us and got us equipment when we needed it. These guys have kept us in business."
Having excellent equipment is a priority for Harry, who has four excavators, three wheel loaders, two dozers and four backhoes among the pieces in his fleet. Command's Marinski says Pioneer Pipe has an excellent PM program. "He manages his equipment so well that we've bought equipment from him," he says. Harry acknowledges that having Kenny come on full time was a huge help. "I don't know how we did without him – the fleet's doubled since he's been here."
Once Pioneer Pipe became successful, Harry made a conscious decision to give back to the community, and regularly sponsors football and scholarship programs. He's also planning an ambitious undertaking – sponsoring a golf tournament to support Parkinson's disease research. The tourney will be in honor of his wife Donna's father, who was stricken with the disease.
Although things were hard at times, once Pioneer Pipe passed the half-million dollar mark in revenue, Harry felt he couldn't go back to work for someone else. He did find it hard to transition to the office and give up control in the field. Having Jeff take the operational reins was a plus, however. "Sometimes we clash, but he takes a lot off of me," Harry says. Even though father and son disagree at times, they share the same philosophy, as do the rest of Harry's employees. "If you don't have good guys, you don't have a company," he says. "But we want to work to live, not live to work." EW
Pioneer Pipe
Year started: 1987
Annual volume after first year: $600,000
Annual volume today: $8 million
Markets served: Utility work for townships, counties and water companies.