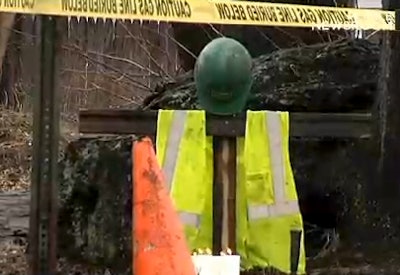 Another shooting has claimed the life of a construction worker while on the job, this time in Connecticut.
According to a report from WSFB TV, Jose Araujo, 31, was killed by one of a spray of bullets fired by a man who just moments ago had walked onto a Bridgeport jobsite to inquire about a job.
The station reports 33-year-old Gregory Weathers approached a foreman on the site Thursday morning and asked about a job. Weathers walked away after the foreman told him he'd need to fill out an application at Burns Construction's office but returned soon after and fired multiple shots at Araujo who was working in a trench at the time of the shooting.
Two officers directing traffic nearby heard the shots and tracked Weathers down on foot hiding behind a nearby home. The officers seized a handgun from him and Weathers admitted to the shooting.
In a follow-up, WFSB reports Weathers is expected to face a Bridgeport judge today and is being held on a $1 million bond.
In order to support Araujo's family in paying for his memorial service, friends and co-workers have set up a GoFundMe page. The page has a goal of $30,000 and as of this posting has raised about $24,000. You can donate here.
The Bridgeport shooting is the latest in a string of shootings on construction jobsites early on this year. Earlier this month a worker was killed in Atlanta after confronting a thief attempting to steal his pickup. Two more occurred in Houston and another in Nashville.