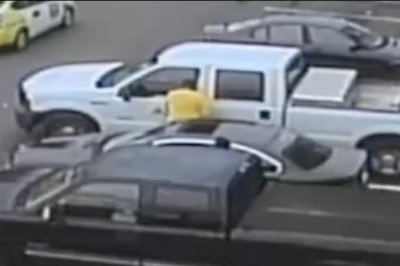 While on the job at an Atlanta grocery store, a construction worker was shot and killed Tuesday after confronting a man that appeared to be stealing his truck.
According to a report from the Atlanta Journal-Constitution, 38-year-old Joshua R. Richey and co-worker Jason Shelton were working at a Kroger on the east side of the city on a job for RG Williams Construction of Covington, Georgia.
Shelton told the paper Richey went up to their work pickup after noticing a man inside. When Richey hit the window to get the man's attention, the man shot Richey, killing him.
Shelton had accompanied Richey to the truck and fell to the ground to evade any more shots. The suspect escaped in a black BMW 3 Series. Shelton said he gave chase but was unable to get the car's license plate number.
The store has a reputation for violence, known among locals as the "Murder Kroger," the AJC reports. Knowing this, Shelton said he asked his supervisor if he could carry a handgun while at work. Shelton said the supervisor told him not to worry about it because Richey already had a gun. Police would not say whether Richey had a gun in his possession at the time of the shooting or not.
Fortunately, Atlanta police have something to go on in investigating the murder. A surveillance camera caught two suspects entering the truck and fleeing the scene in the black BMW. The video has been released in hopes of identifying the men responsible.
The Atlanta incident is the latest in a spat of construction jobsite shootings early on this year in the U.S. Two have occurred in Houston, with one worker surviving and another dying, with another in Nashville where two brothers were shot on the job. Nashville has seen eight armed jobsite robberies this year alone.