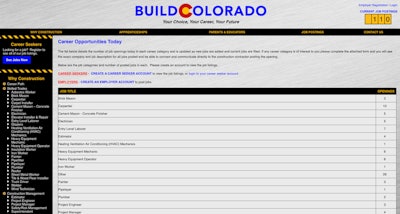 A new website has launched that seeks to both find and train up new workers for Colorado's construction industry as well as match skilled workers to firms that are hiring.
Though contractors across the country are struggling to find enough skilled workers to meet demand, the Associated General Contractors of America told The Denver Post firms in Colorado are having an especially hard time finding carpenters, masons, equipment operators, pipefitters, welders and more.
For that reason, the AGC along with the Colorado Contractors Association and the AGC of Colorado have launched BuildColorado.com. The website launched Wednesday and was announced by Colorado Gov. John Hickenlooper.
The site allows employers in the state to log in and post job openings that those looking for a job can then apply for. As of this post, 110 job postings were live on the site.
But the site also focuses on those who have no experience in the industry. One page of the site titled "Why Construction?" details the low barrier to entry and the benefits of working with your hands. There's also a section of the site that explains the benefits of a career in construction to parents and encourages educators to talk with students about opportunities in the industry.
Another focus of the site is apprenticeships. The site explains this career path and lists dozens of available apprenticeships in the state.