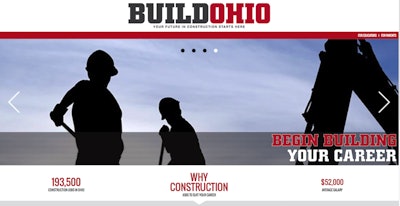 Following the release of an Associated General Contractors of America survey in which 83 percent of U.S. contractors said they can't find enough skilled craft workers, another of the association's state chapters has launched a website that looks to help connect these workers and the firms that need them.
The AGC of Ohio launched BuildOhio.org last week. Like BuildColorado.com which launched in September, the site allows firms to post job openings that can be applied for on the site and it also reaches out to those considering a job in the industry with no experience. The site says 193,500 construction jobs are available in Ohio.
More than half of the respondents to the AGC survey cited above said they feel the current quality of their local pipeline for training new construction workers was below average to poor. As part of improving that pipeline, the AGC has made it a point of emphasis to promote the benefits of the industry and the available training programs that prepare newbies for the work.
In addition to listing Ohio firms that offer paid apprenticeships, it lists construction programs available at technical centers across the state as well as job-specific degree programs at universities and community colleges. The site also lists the type of pay students can expect when getting hired.