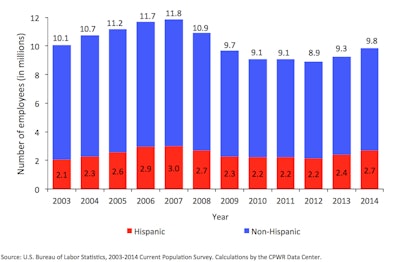 Construction employment will likely grow by 29 percent between 2012 and 2022, according to a report by the CPWR Data Center. According to the center, that would put the number of construction workers in the U.S. at 11.5 million, just under the industry record set in 2007 before the recession took hold.
Funded by NIOSH and using date from the Bureau of Labor Statistics, the data center, which is a non-profit research and training institution created by the trades unions, reports that although 2014 construction employment was still below the 2007 level, new hires outweighed job losses last year.
Monthly hires outweighed job separations by approximately 25,000 jobs per month in 2014.
Construction employment has reached its highest level in six years, with 9.8 million workers in 2014 compared to 8.9 million workers in 2012. Hispanic workers made up approximately 60 percent of this growth, adding a half-million jobs over a two-year period.
Although construction employment overall has improved since the economic downturn, growth levels have varied across construction occupations. Power-line installers experienced the highest percent change in employment at 63 percent, while laborers, electricians, truck drivers and welders also experienced growth.
Some occupations continued to experience declines in growth, including roofers, carpenters and construction managers. Cement masons experienced the most significant decline, falling 43.8 percent between 2010 and 2013. However, employment for cement masons is expected to grow by more than 30 percent over the 10-year period between 2012 and 2022. Brickmasons, carpenters and laborers are also projected to experience substantial growth, at 43.7, 33.8 and 32.1 percent, respectively.
The projected positive change in construction, at 29 percent over the 10-year period, includes a 48.2 percent increase in residential building, a 26.1 percent increase in non-residential building and a 23.1 percent increase in highway, street and bridge construction. This compares favorably to the projected change in employment across all industries, which is expected to increase by 11.3 percent over the same period.
On a regional level, 68 percent of states saw an increase in construction employment between 2010 and 2013, with North Dakota experiencing the highest jump at 50 percent, and Alabama experiencing the steepest decline, falling 9 percent.
Between 2012 and 2022, the most positive growth is projected for states in the western U.S., Florida and Georgia, with projected growths of more than 25 percent, and close to 50 percent in Nevada. More modest growth is expected in the northeastern U.S., with just 3 percent growth projected for Maine.