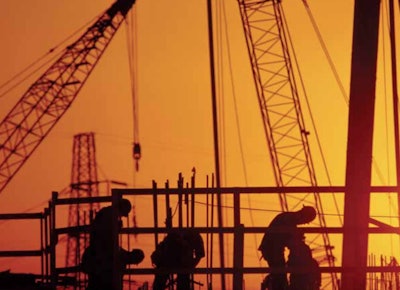 The Omaha area is in the midst of a major construction boom that its local workforce simply isn't equipped to handle.
According to a report from the Omaha World-Herald, a $400 million data center expansion in Council Bluffs has required the services of 2,000 construction workers alone and it's unclear just when the project will be finished.
Beyond that project are a $524 million U.S. Strategic Command facility at Offutt Air Force Base; a $323 million cancer center at Nebraska Medical Center and several more projects below the $100 million mark, according to the report.
To properly staff these projects, contractors and local unions have had to recruit workers from all across the country. In the last year, more than 1,000 out-of-state workers have come to the Omaha area for work, the paper reports. Many of those workers were lured from areas where no work was to be found while others came of out retirement.
And while the major projects have been able to pull in workers from out of state, the paper reports many of the smaller contractors and projects are struggling to make due with the small number of skilled workers the major projects haven't plucked up yet.
The city's superintendent of permits and inspections, Jay Davis, told the paper while many commercial projects in Omaha have been delayed due to the lack of skilled workers available, homebuilders have heavily affected due to a shortage of roofers, plumbers and electricians.
In a survey of U.S. contractors released in October, 83 percent told Associated General Contractors of America they are struggling to find enough craft workers, including carpenters, equipment operators and laborers. A separate AGC study released in August found that 30 percent of U.S. firms had turned down work due to the labor shortage.
You can read more about the area's shortage and how contractors there are coping at the World-Herald site.