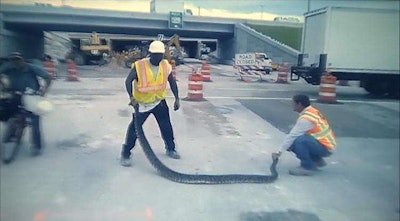 We can all only hope that when confronted by a massive snake we handle the encounter as well as this construction crew near Miami.
According to a report from WFLX TV, the workers, which look to be part of a road construction crew working near Florida State Road 826, found an 11-foot Burmese python inside of a pipe they were going to install. This type of snake isn't native to Florida, according to another report from WTSP TV, so it might be a lost pet.
WSVN TV reports that the snake was uncovered by a worker on the crew named Raymond who "wasn't scared of being near it since he used to frequently kill and eat snakes in Cuba." The workers grabbed the snake by its head, took photos with it and some video as you can see below. Overall, they seem pretty happy with finding what would ruin a lot of people's day.
Captain Jeffrey Fobb of the Miami-Dade Fire Rescue's Venom Unit told WSVN that the snake may have slithered into the pipe before it was moved to the jobsite. "They were put in the truck, covered up and unloaded with a piece of equipment and set on the ground. When they uncovered the pipes this morning, that's when they discovered the snake," Fobb told WSVN.
The snake was turned over to the Florida Fish and Wildlife Commission.